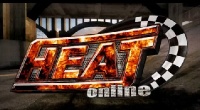 It's time to go fuel up and burn rubber baby! Yep, you guessed it! There is another racing free-to-play that has joined the world of MMO's. Now I'm sure you're asking yourself the same questions I was asking. Why another racing MMO? What could possibly be different about this racing game that would even begin to set itself apart from its established counterparts? Well stick around and we'll find out if this 3D realistic racing game is worth your time or just a waste of cyberspace.
Formerly known as Project Torque, HEAT Online was developed by Invictus-Games Ltd and published by Innologin Ltd. HEAT was released in August of 2010 and is Innologin Ltd's first MMOG publication. Invictus-Games, on the other hand, is far from new to the scene having established itself as an independent game developer studio in 1992. Invictus-Games is top-notch especially when it comes to updates and upgrades. HEAT Online has been upgraded routinely since its publication and new upgrades equal happy gamers!
Take a Look, It's Hot!
Let me start by saying that there are several things that set this racing MMO apart from the others. First and foremost are the primo graphics. It just doesn't get any better than this! If you know me, you know that I appreciate quality, eye-catching graphics—and HEAT has it! These graphics are so smooth that you can easily find yourself engrossed in gameplay without a second thought. It's just that good. From the cars to the environments, everything is brimming with striking detail.
Fire it Up
In the beginning, you are given two options. You can either create you account or select instant play. Instant play allows you to access the game for a bit without having an account. Honestly, the process of registering your account is so quick and simple that choosing the instant play option is almost a waste of you time.
Next you will create your character. In HEAT Online, character creation is relatively simple. You are presented with a modest choice of 3 cars. Each car is unique and comes complete with a set of attributes that are all its own. One car's strength will be another car's weakness.
Bring on the Heat
Okay, you've created your gamer account and you've chosen your car so now it's time to race! Starting out, you will be taken to the Olympic Square which is essentially the game's lobby where you can access various portals. Those portals include the auto-join game option, the create-a-game option, the social portal, as well as the tutorial. The tutorial itself cuts right to the chase and is beneficial. In the tutorial you will navigate a simple obstacle course from start to finish while being taught the various controls. It's quick, simple, and just how we like it.
A Simple Reality
Whether you're playing a FTPMMOG, a PC game, or a console game 99% of racing games have items or boosts. These various items are known by all gamers as the variable that can turn the tides of a race on the last lap in the last few minutes—even in the remaining seconds. Items can take a sound winner and turn that gamer into a loser without a second's notice. Sure, items can really spice up a game and make the last lap especially nerve-racking. The items in those games tend to be random and exciting. I can say quite honestly that I've found HEAT Online to be a very welcome breath of fresh air! Being able to enjoy the simplicity of a realistic race completely devoid of fictional items is such a relief! In HEAT, it's just your car versus their cars. It all boils down to player ability.
Being based completely on player ability is what makes HEAT so addictive. The intensity of this MMO is amazing. The courses amplify that intensity courtesy of some wild terrain that will catch even the most seasoned HEAT driver off guard. This is actually good news for a new player because even those seasoned players will slip up eventually giving you an opportunity to take the lead. All in all, the gameplay is really very balanced all on account of some wicked map designs.
Pimp Your Ride
There are those who like to set themselves apart with a unique paint color—and there are those who are customization freaks. Customization freaks like to take esthetics to the extreme. Unfortunately, all of you freaks out there will be disappointed because the key to pimpin' your ride in HEAT Online is patience. And that's not a word that many gamers are familiar with… especially racing gamers.
Initially you don't start out with much. It's just you and your prefab car. As gameplay progresses, each and every race that you complete banks you valuable in-game cash that along with your XP's can be utilized to make the purchases you need to hook up your ride. It takes a bit to get the bankroll going, but soon enough you'll be racing in style—your style. Keep in mind that while the esthetic upgrades are fun, they will not influence your gameplay whatsoever.
Thrills and Spills
HEAT Online has really set itself apart from the other FTPMMOs out there. From the high speed action to the realistic gameplay, HEAT doesn't even feel like a free-to-play online game. Not to mention the real-time damage model—you wreck your car and it's going to show! The ability to connect with other players throughout the world through HEAT's social portal really brings a sense of community to the game. You'll be racing with gamers on tracks from Hungary, Germany, England, and Mexico just to name a few.
The Final Word
HEAT Online has the simplicity of an arcade style game with the intricate details of any console racing game. What does that mean? Well, you jump right in and go for the gold! No experience necessary. One thing I really like about HEAT Online is the genuine realism that the developers integrated right into the heart of this game. HEAT's developers struck the perfect balance with both fun and challenging gameplay.
And don't forget the graphics! One look and you'll see what I mean…And I hope that you have a computer capable of doing these graphics justice. Again, amazing graphics aren't something that you see every day in the MMO genre'. The sense of community is something else that I really liked. You can organize a crew or join an existing one. HEAT also has a friend list and in-game chat to keep you even more connected. Now I realize that chatting and friend lists are pretty common among FTP games, but to find one in a racing game with such a relaxed arcade feel just seems novel.
There are some things that I didn't like about this game. The player base is relatively small. However I don't find that too surprising because racing games are such a niche genre'. On the bright side, you know that those gamers that are there are there to play hard!
I found the lack of initial customization options to be a disappointment. I can understand waiting for the big customization options as you increase in XP. But I think that new gamers should be given more customization options from the start. Spice it up and get your new gamers hooked—that's my opinion.
And one last thing worth mentioning is the ease of gameplay. It is quite polished. But again, nothing is perfect and if you are a driver that likes to drift through turns you're not going to like this game. Drifting is virtually impossible.
I think that HEAT Online is an excellent racing MMO and that its pros far outweigh its cons.