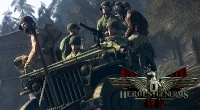 Time to strap on your boots and choose your role. Well sort of. This latest offering to the first person shooter realm is giving players a chance to jump into the battle, and help shape the war. Heroes and Generals is a First Person Shooter first and foremost, but it is also a major war campaign as well. You as the player will jump into campaigns that take place all over Europe during World War II. This is your chance to leave your mark.
You will start off with some basic gear, and have the option to jump into several different campaigns or battle modes. From there the fight is on, and you will have a set of goals to accomplish. Many vehicles will be available for you to move around the map more quickly. Everything from a basic bicycle to a heavy tank can be used to neutralize your enemy.
The game has depth, I just really wish it had more weapons. Overall the game is fun, and that is what it is all about, also it is free and in the browser. So not much to complain about there.
See more action in my full gameplay review of Heroes and Generals below…