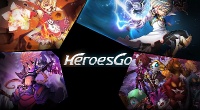 Side scrolling free to play MMORPGs have been rapidly hitting the market over the past year. The only problem is that they haven't exactly been sticking around for long. ESTSoft is hoping to change that trend with their latest, HeroesGo.
The game gives players the usual options of classes and throws you quickly into the mix and the action. Running quests and completely dungeons is the name of the game. And you will complete a lot of dungeons and kill a lot of monsters. The problem with HeroesGo is that there just really isn't anything new here. There are glimpses, but that is about all. Now this doesn't mean that the game will not appeal to gamers, far from it. The action oriented combat is getting much more attention these days, and gamers are yerning for it.
If you enjoy fast paced arcade style action games, I would certainly take a look at my first look for HeroesGo.
Don't forget to subscribe to our YouTube channel!