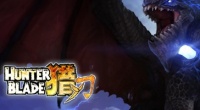 Hunter Blade is an action oriented monster hunting free to play MMORPG. Expect everything to be over the top when playing Hunter Blade, just as it is in the games muse, Monster Hunter. Be ready to battle your way through unique landscapes and even more so, do battle with monsters that range from normal to just out right terrifying in this free MMORPG. The real key is that even though the monsters change, is there enough here to keep players constantly battle for more. Keep reading and we will talk about some of the games features, and if Hunter Blade deserves a special place on your hard drive.
Getting Started
Once you are logged into Hunter Blade you are dropped quickly into the character or role creation. While the game doesn't have the most options when it comes to character customization, it certainly doesn't have the least either. Moving through the choices quickly, we notices there are no classes, just weapon types. So you will chose a weapon type that suits your play style. Some weapon types are locked and only come open once you reach a certain level. Others are completely hidden.
Gameplay
With your character created, the game will drop you into a quick tutorial. In this tutorial you will see that translations were done with a valiant effort, but at times came up short. Nothing that can not be deciphered, but it does make for some nice accidental comic relief. The tutorial does give a good explanation of all the controls you will need to start hunting monsters. Though right from the first monster you fight, the combat seems less flowing than it should be.
After completing the tutorial the game will drop you in the Village where you can start your adventures, gather quests that can be completed by either running to other NPCs and doing a task, or heading out into the wilderness and hunting down monsters. Either way, the quests are well worth the small amount of effort they take as you will find by doing these you will level up rather quickly. Also, the more you hunt the more items you will gather that can be turned into valuable weapons, armor, and other useful equipment.
Crafting is a huge portion of the game and the game will even track for you the items you are gathering towards a specific item you wish to create. One of the great things about the items you will create is that they are highly useful, and usually the item you will be equipping for use. So rarely do games have items at basically every level that you are going to want to use. This is one place that Hunter Blade is well done.
Graphics, Sounds, and UI
Graphically speaking, Hunter Blade looks great, especially when you are out in the wilderness and hunting down monsters. A lot of attention was given to the small details of the environments. Granted each of these are small and very instance based, so a bit different than creating an open world. Yet visually the game looks great.
The games music and sound effects do a great job of making a player feel like they are in an action packed monster hunt. So no complaints on the auditory aspect of the game.
The User Interface is a bit lacking. I always find it odd when games choose certain key mapping for games, especially when there is so much research and data that shows that gamers like things a certain way. Many of the buttons are hard to see and discern what they are suppose to represent. Highlighting over them will explain each to you, but I like my games a bit more intuitive than that.
The Final Word
Hunter Blade has some good bones, but it could really do with a bit better meat and potatoes. While the combat is fast paced, it seems to miss the mark when it comes to being as fluid as it possibly could. Quests tend to be repeats of each other, with players spending quite a lot of time grinding out the same monsters again and again for materials to craft the next best item. With that said, the crafting system is simple and well done. Always nice to see where items that come out of a crafting system are useful. Overall, if you want something that is a quick fix for your Monster Hunting, Hunter Blade may just work for you.