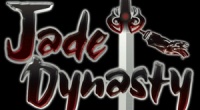 Perfect World Entertainment is not a new company anymore in the game development industry. Founded in 2004, the China based company has developed many renowned
free to play MMO
titles. There is no surprise that their first ever game title was also '
Perfect World
'-a 3D mythical adventure MMO game. However, released in China as 'Zhu Xian', the most well known title of all Perfect World games remains the '
Jade Dynasty
'.
Developed by this Chinese company, Jade Dynasty is a game set in ancient China. If you are a die-hard martial arts fan, you would just love this game. Moreover, there are a lot of factors borrowed directly from Chinese Mythology-the monsters for instance. With a lot of unique features and excellent graphics and design quality, Jade Dynasty was a hit right way. Let's read on to find out what this MMO has to offer.
A Solid Story
It is quite difficult to get involved in the gameplay of an RPG unless you know what exactly you are fighting for. So the storyline definitely plays its role to spark interest and involvement in the players. Jade Dynasty has got quite an interesting storyline all along, not unique though. Like most MMOs, the game is set in times of the world at war, only this time it is humans against the gods. The immortals, Balo and Arden are not quite happy with the way human beings are rising to power. They have unleashed upon our race Rayan, the merciless killers and Celan, the charmers.
Gameplay
Although Jade Dynasty has almost every traditional MMORPG element, a few innovative features make the gameplay unique and captivating. I really liked how my avatar was able to earn experience even when I was logged off i.e. earning experience dozing off in the game. The game starts with character customization mode, but remember that you don't have any classes or races to choose from, not in the beginning at least. The players start off as a common initiator instead. The choice of factions (race) comes later in the game, making the RPG element take a stronger form. It usually takes half an hour to reach that level. So, overall it is interesting game play which only gets more interesting with time. Other than this, the game play involves questing and grinding plus other systems included such as pets and marriages.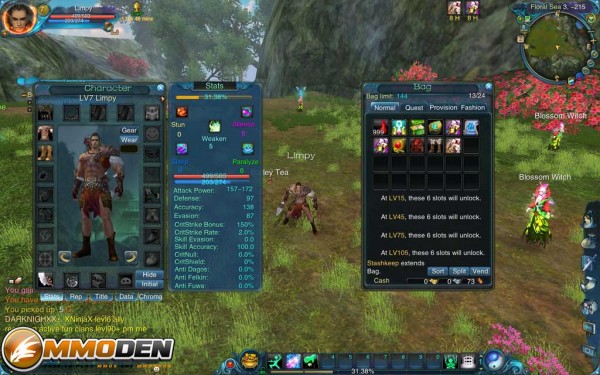 Character Customization
The characters are very well made and are anime-inspired but the overall character customization is a disappointment, especially if you are keeping the 'Perfect World' in mind. Since you have no choice of races or factions yet, you have very limited choice of customizing your initial character. So, chose between the genders and limited number of faces and hairstyles and with these limited options try your best to look unique.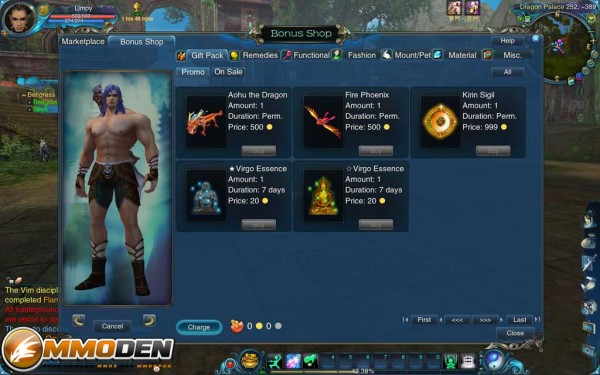 Factions
There may not be much variety in character customization but once you have reached level 15, the range and versatility of factions will not disappoint even the most finicky gamer around. Each faction is unique with its own set of skills and powers. Let's take a look at the five factions of Jade Dynasty.
Jadeon – The Archer. Although they are not good at defending themselves, they have the most effective and powerful long range attack in Jade Dynasty.
Skysong –The Healer-They are the Healers of Jade Dynasty. They too have low defense and are not very good at offense either, but they are extremely useful allies in battles.
Vim – The Warrior-This is the class with highest defensive capabilities. However, they don't have a good range of attack.
Lupin – The Rogue-For close combat, Lupins deal the best melee attacks. However, they won't be very defensive and may suffer great damages in group battles.
Modo – The Warlock-Use the spell casting mojo to deal heavy damages to the enemies. In time, they can turn in to a powerful character with great offense and defense but initially they are not as good as the others.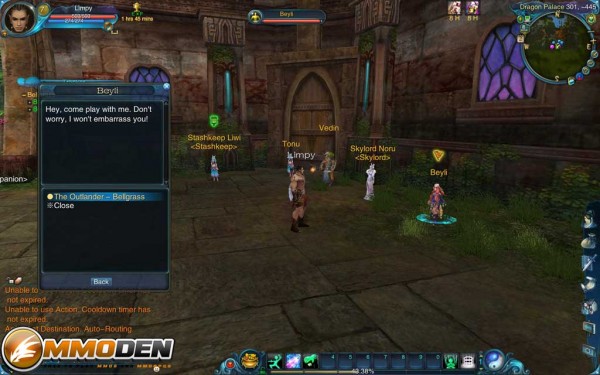 Getting Around The Land
Starting off in the game, there is no tutorial to play. Now that is a relief. You don't always need that for an MMORPG, unless it is way too unique. There are a lot of helpful NPCs you will find around town. Initial quests are way too easy and may disappoint hardcore players. However, given that there was no tutorial, easy questing isn't such a bad thing after all. Moreover, these quests will help you getting hands on practice with your first weapons.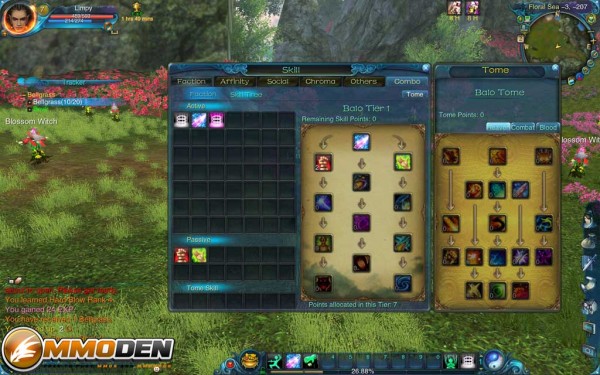 Mad Skills
Starting as an initiate class, with only simple quests to perform, you will have a very limited set of skills. There are four essential skills, a buff, a boost, a healing power and an offensive move. Despite this small set of skills, players are able to deal heavy damages with single blows. So, killing the monsters at an early stage should not be a big problem. Reaching level 15, you will get further enhanced sets of skills according to the class you choose to be in. Each faction will have five different tiers of a skill tree. Once you have reached level 90, you can help others to reach higher levels and that will bag you some charity points. Leveling is easy enough and happens quite quickly in Jade Dynasty.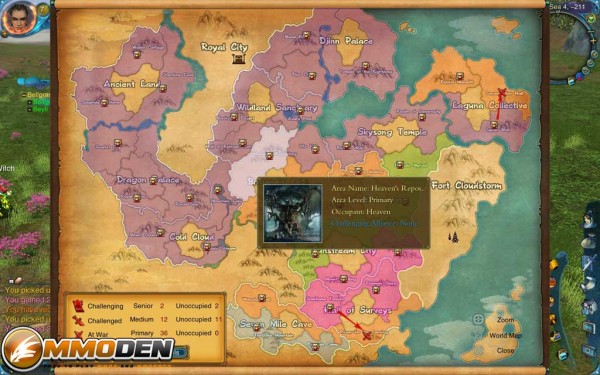 PVE and PVP
Although PVE is very easy in Jade Dynasty, if you require hardcore MMO fun you can go for PvP as well. There are multiple PvP channels of Jade Dynasty and you can get plenty of people there to form a group and start a group fight with. Unlike the PvE mode, PvP is not that easy. A group will require at least one skilled player from each faction. The Esper, or what you can call a pet, is very handy in PvP as it adds skills to the player's skill tree. However, in PvP, Esper is not of much use.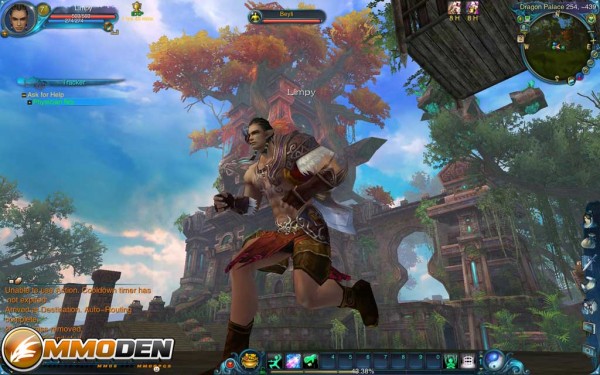 Graphics and Sounds
As we mentioned earlier, Jade Dynasty has some of the most interesting original artwork and graphics we have seen in a free to play MMO. There are no glitches reported so far and the game flows smoothly even in the most crowded battles.
Sound effects are good, if not great. As usual, the effects add up to the whole gaming experience. The music, although not so commendable, is not too bad either.
Pros and Cons
Finally, it's time to be honest and define the pros and cons of Jade dynasty. There are many likable factors such as the Esper and mount system. Also, the auto-walk feature greatly helps in making the gameplay more interesting.
What we don't really like about this free to play MMO was limited options for character customization and it's way too easy beginner level in PvE. Hardcore gamers may not like the idea of waiting till level 15 to get some real action started.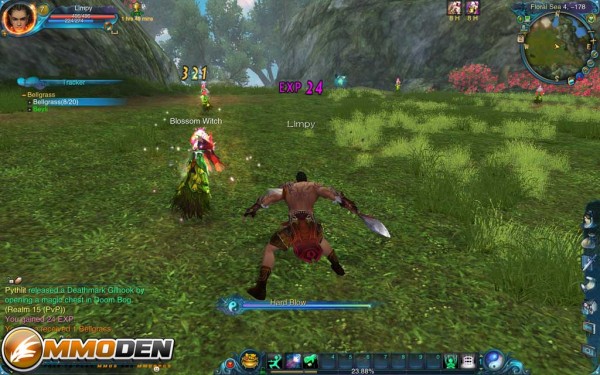 The Final Word
Overall, we would like to rate Jade Dynasty a must-try FTP MMO for classic RPG fans who are looking for something fresh for the eyes and the mind. The game must be in the priority list of those who want to enter the MMO arena for the first time. Even without a tutorial, the game offers a fine learning curve. It won't frustrate the new players while it can completely entertain the old ones.