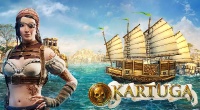 Kartuga is the latest from Innogames and is meant to put a nice twist on the action free MMORPG genre that we have been seeing become so popular in the recent past. Players will choose from one of three ship/class types, but will have three skill tree options under each of those ship types, making the possibilities quite extensive. A player will quickly take on quests and start blasting their enemies and gaining gold and ship parts that will become vital to their research of new ships, weapons, crew and more.
PvP in the game is set up in two distinct gameplay types and can be hectic and highly entertaining. Domination and Destruction rule the day when it comes to PvP. Enter on your own and be matched up with a group or you can queue up with a group of friends in a pre-assembled group. The choice is yours.
Visually the game looks gorgeous, especially for a game that runs in the browser, with each local having incredible looking landscapes and water effects. You can see all this for yourself in my first look gameplay video below and decide for yourself if you are ready to take to the high seas in search of fortune and fame.
Don't forget to subscribe to our YouTube channel!