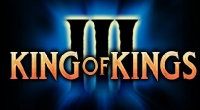 Having so many Free MMOs to choose from can be a little annoying but there is always a silver lining. The plethora of free to play MMOs offer almost every gamer a chance to indulge in a game that suits their gameplay desires and entertainment needs the best. One of such basic needs of most MMO enthusiasts is a game that offers an extensive PvP experience. This is exactly what the King of Kings 3 has to offer.
King of Kings 3 is the latest offering by Gamigo. The company that has brought us titles such as Last Chaos, Fiesta Online, Black Prophecy and Soulmaster. Other than a variety of PvP modes, King of Kings 3 offers a good amount of RPG as well as RTS elements. While focusing on PvP aspect, the game brilliantly balances the PvE aspect. Up to date graphics makes it even more interesting experience overall.
Back Story
The back story of king of the Kings is nothing unusual for a free to play. Of course, the developers won't be spending much time developing a strong story or lore for a free to play. So, as usual it starts with a war-torn world. For this game, it is the world of Tangramia which is split into seven realms; Germania, Lutetia, Britannia, Mediterrania, Anatolia, Polonia and the New World. These realms fight each other for the limited resources available. Each realm is protected by a patron god.
Have some Class
The game offers three basic classes and each class advances up to three more classes.
Warrior – They are physically the strongest among all the classes. The can also carry heavy armor along with powerful weapons. They are great in close combat and can deal a great amount of damage during close encounters.
• Berserker- They are the offensive class. They are excellent fighters with powerful offensive attacks that can deal a great amount of damage. They can dual wield.
• Rangers- They are the masters of the sword as well as the bow. Their true capabilities can be seen in ranged attacks, but they can deal equally good amount of damage during close combat.
• Knights – They are mounted warriors with a lance and bow. They are an excellent choice for powerful ranged attacks and have good defensive capabilities.
Mage – Their strongest weapon is their mind. Mages can use magic to take down their enemies and protect their allies. With the right allies, they can prove to be extremely lethal during battles.
• Sword mage – Sword mages are the masters of swords made from special crystals. Through these swords, the can become as dangerous as the warriors during a battle.
• Conjurer – they use the power of their mind as their ultimate weapon. They can learn to harness the power of nature and forces of energies which they can use against their enemies.
• Wizard- Wizards are the masters of elemental magic. They have the power to devastate their enemies but due to their weak defense, they need their allies to protect them.
Clerics – Cleric is a support class with healing and buffing abilities. It is their power of belief that has blessed them with this ability to help their allies. In return, they require their allies to protect them against any harm during the battle.
• Scholars – They have immense power to heal wounds of others. They can even resurrect other players from death.
• Bishop – Bishops have learned from the mages and this is what gives them great offensive and defensive capabilities against swords and magic.
• Priests – they have dedicated their souls to the God. This allows them to summon angels and holy light during the battles.
Gameplay
The gameplay of King of Kings 3 is made exciting due to its heavy emphasis on PvP and a balanced PvE element. The game starts with a quick character customization screen with very limited customization options. Although you can change tattoos and scars along with hairstyles and gender, the game still feels lacking in this department.
Now, as a new player, the story will be introduced to you in the form of several text screens. The starting point of each player depends on the realm you have chosen. One thing that is common for all is that you will start near a quest NPC. Just talking to him will get you to the next level. While most people will sign up for this game for a heavy PvP experience, questing is fun for beginners. Taking quests will help you level up fast and get acquainted with the game's controls and environment.
Each player is accompanied by a Imamu which is more like a fairy. Imamu can perform several tasks for players including selling their equipment when the backpack is full. You can also get yourself a mount, a flying mount as well. In fact, a mount really adds loads of excitement to the overall playing experience.
As for PvP, there is a variety of PvP modes including duels, open PvP and Realm vs. Realm. While each player starts off alone, it eventually becomes necessary to join other players, join or build your own guild and expand it in order to make it stronger. You can conquer other towns during skirmishes or regularly held events.
The game also features an in depth crafting system. Since the war is about collecting the limited resources left in the world. You will need resources to build weapons, armor and buildings, more or less like in RTS games. You can even sell those crafted items by setting up a peddler stall in the town.
King of Kings 3 also offers a wonderful opportunity to design and build your own houses, towns and fortresses. These buildings can be functional or plain decorative. Functional buildings can be leveled up in order to offer higher bonuses.
Another exciting system within the game is mini-games. If you are bored of constant questing or PvPing, you can indulge in one of the mini-games offered in the King of Kings 3. These games include the typical whack-a-mole to a unique dancing game. In the end, you will be able to earn some experience points as well as rewards for spending time on these mini games instead of wandering off to some other MMO.
Graphics and Sounds
If you are used to playing "pay to plays", you will find the graphics of King of Kings 3 pretty dated but for a free to play, King of Kings 3 deserves a four star at least. And we have seen worse! Characters are all well designed and the interface is also one of the most user-friendly ones.
As for the sound, we must admit, there is nothing very extra ordinary in this department. However, one thing that does deserve praise is that the sound does go well with the actions. Although pretty generic, it actually does enhance the overall playing experience.
Pros and Cons
+ Exciting housing and building system
+ Mount system with flying mounts
+ High level cap
+ Great emphasis on multiplayer game play
+ Variety of PvP modes including RvR
-Sound and music feels pretty generic
– The same old fantasy theme makes it look boring
– PvE elements are lacking
The Final Word
For all those who long for a true PvP experience King of Kings 3 definitely answers the prayers. It not only offers a variety of PvP experience, it also incorporates a number of features and elements that make it an addictive and engaging game for most MMO enthusiasts. This is what makes it a game ranking high on our must play list.