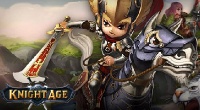 Knight Age, the free MMORPG from Joymax, gives players something that they have clamored for, for years. Not only does the game cover the basics of most MMORPGs, especially free MMORPGs. Knight Age then goes a step further and gives the player the opportunity to enjoy combat from their mount. Not only will players be able to engage in mounted combat in the most trivial areas, but mounted combat is available everywhere, including the games instances.
While mounted combat is quite a novelty, players will also find themselves in the role of a parent. Finding eggs around the world and raising them from the little baby pet up through adulthood. These pets will be loyal to the player and as long as they are kept happy, they will fight to the death along side of a player. Players can even enter an area and set their pet to aggressive, letting the pet roam around and lay waste to the monsters of the area while the player never lifts a finger.
The games guild system is pretty generic and not much is there that you can not find in other games, but once a guild rises up the ranks. Guild battles are of epic scale. 50 vs 50 to be precise. Giving an all out feeling that a player is taking part in war rather than just a small skirmish. Smaller scale PvP exists as well, but the highlight of PvP will be these guild battles.
Overall the game presents itself with cute graphics, a sleek interface, a solid musical score and sound effects, and robust gameplay. There are a few minor pathing issues that we found very early on, but nothing that really detracted from our experience.