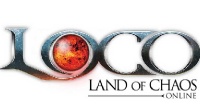 This free to play 3D fantasy MMO has caught the attention of the worldwide online gaming community. Colorful landscapes and sharp graphics are what await you as you sign in to this FTP MMO. Keep reading and you'll want to join the multitude of people that play this unique game every day.
The Basics
Developed by Burda:ic and Published by Burda:ic's alaplaya, Land of Chaos Online is unique MMO hybrid created by combining both third-person shooter and RPG styles. Burda:ic is located in Munich, Germany and is known for its marketing and distribution of MMOGs such as S4 League and Florensia. Its gaming platform, alaplaya, was launched in 2007 and has enjoyed very rapid growth. Chaos Online is genuinely a free-to-play masterpiece. Burda:ic set its creation apart from all other online games with the development of an amazingly in-depth skill system.
Upon signing in, you'll notice that the menus are a bit confusing. Navigation isn't too terribly hard, though you'll want to take a few minutes to get yourself orientated. When entering character creation, you'll find the same menu set-up. So at this point, it's easy to say that UI navigation falls under the "cons" list. Many a gamer has complained about the navigation on Land of Chaos Online. I find it a bit ironic, however, that the title (Chaos) has spilled over into the menu system. I'm a member of the "let's keep navigation simple" camp.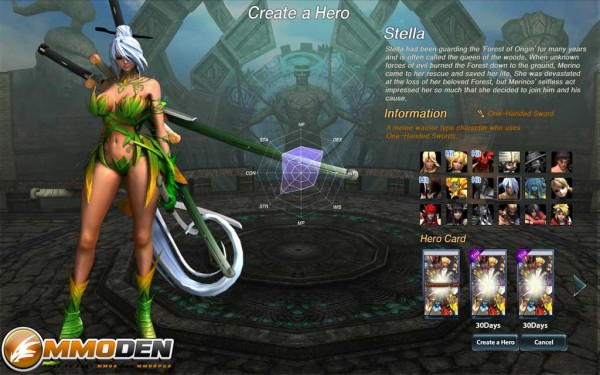 The Developers Listen
Apparently I wasn't the only one with navigation complaints. The people spoke and the developers listened because on January 25, 2011 burda:ic released an update for Land of Chaos Online. This update contains a multitude of user interface improvements and introduces a new assist system.
Once the update has been installed, you'll notice that lobby navigation has been made simpler. Jumping right into combat is quick with the new "Play a Game" button. Another new addition is the "Play with Friends" button which makes social networking easier; simply invite your friends and start playing. Assembling groups and guilds is also made simpler with the team-guild system updates.
The new and improved assist system allows users the chance to snag extra EXP, in-game points, and gold. Originally, when an opponent was defeated, the player who dealt the last blow was solely rewarded. With the new assist system, all players involved in brining the adversary to its knees are compensated. This new system encourages player cooperation when fighting against all foes, including bosses. This much needed update is available for download when logging in.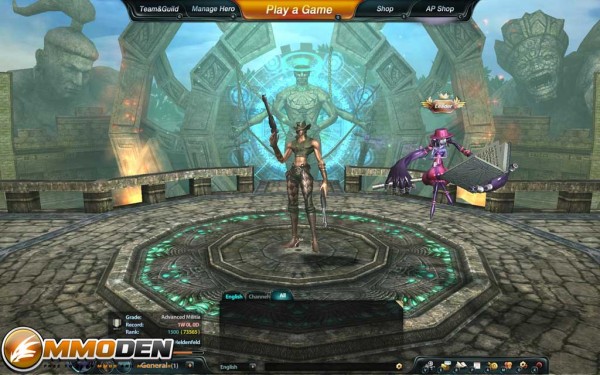 Characters with Mad Skills
Land of Chaos Online offered 12 playable characters at the time of launch, but has since expanded to 18 total playable heros. With 13 of these playable without any token shop upgrades. Each character has a whopping total of 10 skills—8 regular and 2 ultimate. As it stands, most of Land of Chaos' competitors average about 4 skills. The skill trees are seemingly infinite, and the ways to play each character are diverse.
Characters start gameplay with basic equipment. Items, weapons and armor are earned through gameplay; the variety is wide and the items, weaponry and armor are unique making each character's esthetic combinations one-of-a-kind.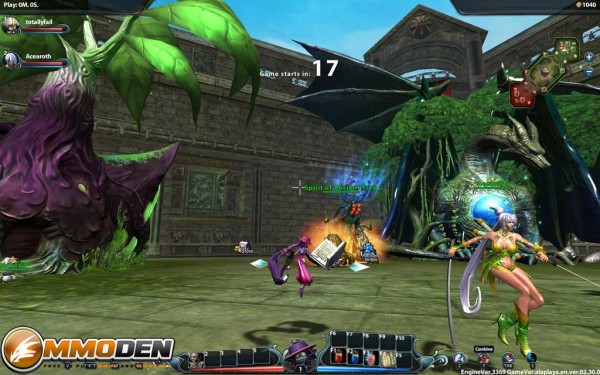 The skill system in this game is simply paramount. Seasoned players have said again and again that the skill systems in both DotA and League of Legends are no match for those of Land of Chaos Online. Something else worth mentioning is that while—as it stands—those games have more playable characters, the skill system in Land of Chaos Online offers far greater variety. Skills in this game are adjustable and can be customized to meet the needs of each unique battle scenario.
Users should also note that they will need to obtain what are called "Skill Scrolls" to permanently unlock many of their character's skills. These scrolls may be obtained by completing missions on the mission board. Players will find their attempts to master their character's skill tree one of the most arduous yet gratifying aspects of this game.
Land of Chaos Online sets itself apart even farther with the abandonment of races and traditional classes. Instead, you'll find yourself face-to-face with some of the most uncommon and distinctive characters in the world of MMOs. What makes gameplay even more compelling are the back stories that accompany each character. Characters also possess their own specialization be it strength, the ability to cast spells, or even the power to heal. Players are also given the ability to develop up to 3 different characters. These characters can all be used during a single match simply by selecting another character during respawn.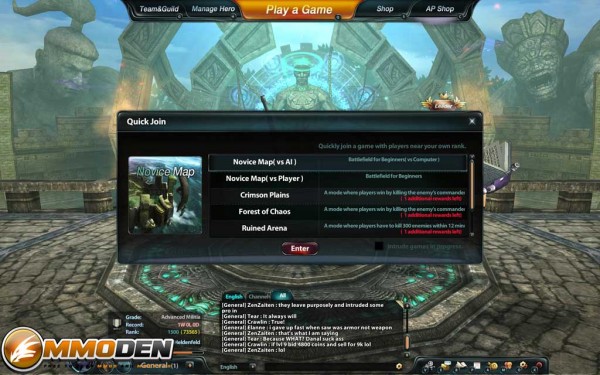 Meet the Heros
Here is a brief look at some of the heroes of Land of Chaos Online:
Atin- While Atin isn't quite a tank, he can certainly survive more of an onslaught than any of his fellow classes. Atin is an extremely dangerous melee DPS class and the ability to fight with a few ranged attacks. Atin definitely makes for a powerful ally.
Foxlady- Don't let the feminine looks of this hero fool you, Foxlady is a deadly opponent. She is a martial arts master and vicious when met up close and personal. Foxlady is an excellent offensive ally.
Irene Claudel- Irene operates with a slew of buffs that can prove to be real lifesavers for her allies. She's a skilled healer and possesses a few offensive abilities. However, her real strength lies in her defensive maneuvers and has often been referred to as a defensive powerhouse.
Kilmor- This hero can handle serious punishment, but can only dish it out if he gets close enough. Kilmor could effectively be referred to as a lean, mean, towering machine. If you find yourself face to face with Kilmor, you'd be best advised to retreat.
Nosferatu- Operating in both physical attacks and spells, Nosferatu is a classic hybrid. He also has the ability to attack from a distance as well as massacre face-to-face.
Stella- Stella means business and can deal out some serious damage in minimal time. While she is endowed offensively, Stella is quite frail and lacks severely in the area of natural defense.
Very Mary Bell- V.M. Bell has extensive illusion training which she uses quite effectively in combat. Weaving in and out of battle confuses her opponent and adds to the already abundant chaos.
Octavian- Octavian is a supporting tank class and may remind you of Irene. While he has a very impressive resume of support abilities, he's very weak offensively. Octavian is another character you'll come to rely on in battle.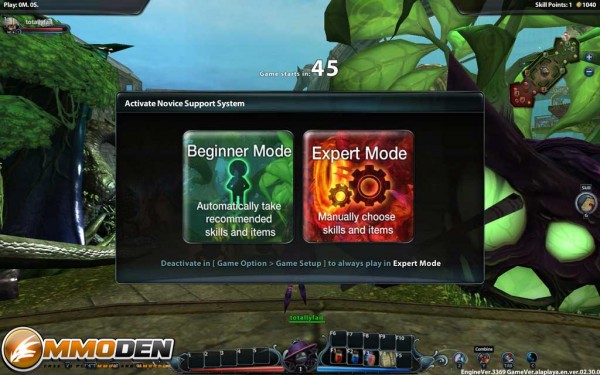 Leveling Up
In Land of Chaos Online, there are 2 different level systems. The global system primarily influences a player's rank. The temporary match-based level system is divided into sublevels. Once your character reaches a sublevel, you are then able to outfit your character with the weaponry chosen prior to battle.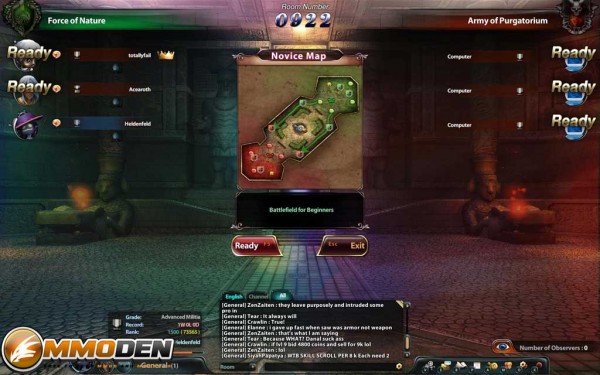 Gameplay
Gameplay consists of two modes: Annihilation and Battlefield.
Annihilation mode is an arena style mode that allows up to 16 players to combat in two teams of up to 8 players each. Gameplay is balanced as all players are set at equal skill levels. To win Annihilation, your team must be the first to obtain a pre-selected amount of kills. Through the mass chaos evident in Annihilation, use of strategy and teamwork are essential to win.
Battlefield mode allows for up to 10 players, with 5 players per team. The purpose of this mode is simple—to destroy the other team's base with the assistance of spawned NPCs.
Prior to beginning either mode, you are able to choose between beginner or expert modes. The beginner mode distributes your purchase items and skill points by default. Choosing the expert mode allows you the opportunity to distribute your own skill points as well as purchase your own items.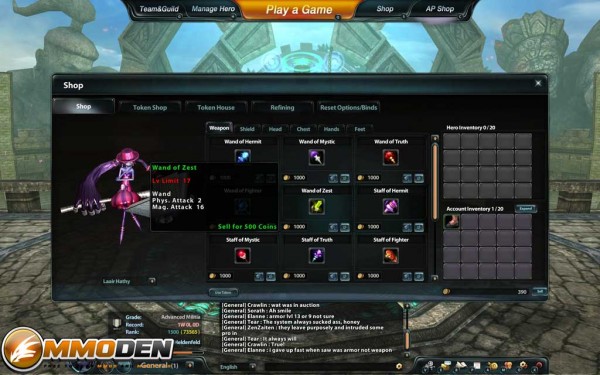 Token Shop
A visit to Land of Chaos' item mall is essentially unremarkable. In the item mall you will find an abundance of rare and heavy equipment, potions and other consumable items, as well as permanent armor and weapon enhancements, among other things. I'm happy to report, in all honesty, that the economy of Land of Chaos Online is well balanced. It's always a relief to find a great game that comes complete with a fair and balanced item mall.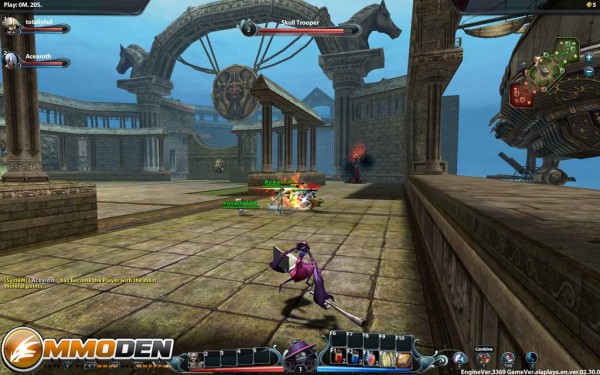 The Final Word
Land of Chaos Online plays like a combination of Savage 2 and League of Legends. However, Land of Chaos Online is its own animal, a completely different breed that has set itself apart from the competition. Gameplay is a blast! While character customization isn't anything to write home about, the skill trees in this game are awesome. The graphics are first-rate and really add depth to an already captivating storyline. I give Land of Chaos Online 4.5. I definitely recommend downloading this game and giving it a try! Until next time, game on!