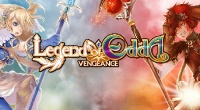 Occasionally a game maker chooses to take a game off the market, even when the game has a decent following and the game could potentially do well. We as gamers see these games disappear all the time and we hope they will find a new home or some how come back from the dead, but in most cases we have learned to not get our hopes up.
GamesCampus made the decision not all that long ago to pull Legend of Edda out of the public eye, stating that the game did not live up to their standards and that the game needed to be revamped. We should be kissing their feet right now, as the new and improved version of the game offers so much more than its predecessor.
Players who have been waiting for this return should be very happy with the product that is presented to them. While the game does have a bit of grind associated with the quests, the PvP is outstanding and should please the most fickle Free MMORPG PvP aficionado. Loaded to the code with 100v100 large scale wars, and season based 5v5, 3v3, and 1v1 options. There isn't much not to like for the PvP lover. Those on the PvE side of things will find plenty to whet their appetite as well. With many zones to explore, dungeons to raid, and much more.
So check out my full gameplay first look here and see if Legend of Edda is just what you have been looking for.
Don't forget to subscribe to our YouTube channel!