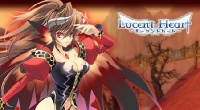 Honestly speaking, when we first heard about the Free MMORPG 'Lucent Heart', we thought of a back-story about some dragon's heart full of wrath and revenge, which has apparently set the whole world on fire, leaving poor inhabitants in a state of violence and destruction. And as a player you have to slash and grind your way to that heart to either destroy it or deliver it to the right hands. This shows how badly our minds are influenced by violence-ridden Free to Play MMOs.
Lucent Heart was a completely different experience, as it is an MMO focusing on 'love' rather than 'violence'. And we assume we just lost the interest of more than half of the MMORPG fanatics here! Well, the good news is that the game is anything but another cookie cutter. With pretty unique concept and gameplay, the game was developed by the Japanese company PlayCool. The game focuses heavily on the social aspect of Multi-player genre. The highlight of this game is its innovative friendship/dating system based on zodiac match.
The Story
Thankfully, the story of this game is much different than the horrible one we assumed earlier. Out of two daughters of the goddess Hecate, Theia was chosen by the Lucent Heart, source of infinite power. Theia's sister Cadena and Hecate planned to destroy what Theia loved the most, humanity. So, a war has started.
Classes and Blood Types
What! Yes, you've read it right. Among many innovations, blood type is one most found in Lucent Heart. You can choose from A, B, AB and O. The blood types only make a minor difference, for instance, a certain blood type might make you more prone to stinginess. The class system is also very impressive and allows for good progression throughout the game. There are two classes to start with. The classes further level up into four primary classes. Each class also offers a choice between two advanced classes and six professions.
Starting Classes:
Warrior: This is the class with strong and powerful attack. They further advance into Knight and gunner classes.
Mage: The prefer magic over physical strength. The can advance to wizard or priest classes.
Primary Classes:
Knight – Knights have heavy armor and shields and they are excellent swordsmen. They can further advance to Solar Guardians and Celestial Templar.
Gunner – They can deal great amount of damage with maximum accuracy from great distance. They can advance to Nova Sentinel and Comet Marksman.
Wizard – They acquire their power from elements and cast dangerous spells. This class advances to Galaxy Sage or Moon Flame.
Priest – This is the supportive class and it is able to heal and restore. The class can advance to the Sun Commissioner and Dawn Prophet.
The Gameplay
Like any usual MMORPG, with a good focus on the RPG aspect, Lucent Heart also starts with character customization. You can choose your gender, hairstyles, class and the most important of all, the zodiac. Later on you will find out that the zodiac sign will greatly affect your everyday gameplay exactly the way they are said to have an effect on the daily life.
The basic gameplay is based on crafting and questing. However, most of the quests fail to give any extra ordinary excitement. You will be slaying frogs, clowns, bees and floating hands instead of usual ferocious monsters. The loot and items you get vary greatly according to your daily horoscope. One day you might be lucky enough to find a rare item, and one day you might not get anything at all.
As for the dungeons, there is one very thoughtful aspect in it. The dungeons are instanced and you can create your own. You can choose the monster, the loot and the environment and here you go. This is a great relief from the constant and boring grinding. Blacksmithing is one of the most useful professions among the six. You can enter the shop and craft your weapon. The more experienced you are the better weapon you can create.
The Zodiac and The Cupid
Now, the major highlight of the game is its in-depth Cupid system. Yes, married people be ware, or better take your spouse's permission first. The game's cupid system will make your match with at least three other players depending on the zodiac compatibility. Yet, it is not purely a zodiac match. You can list your desired conditions such as gender, level or any zodiac sign you prefer.
Interestingly, cupid doesn't believe in love at first sight and the partners start as friends. Later, both partners will have to take initiatives to make their relationship stronger. As a matter of fact, you won't be declared a couple unless you prove your compatibility. Later on, you can get married in a ceremony. Once you are with a partner, the real fun begins. You can do a lot of things together including a funky dance competition. Challenge your partner and see your avatars moving in funky and funny way.
Coming back to the astrological effects, your sign will affect five aspects of your virtual life; Love, Battle, Wealth, Work and Agility. Any of these attributes will get a boost or a blow according to your daily horoscope. Now finally, if you are not already too excited about the zodiac and marriage system, the game also has a pet system.
The Shady Side
If social excitement is what you desire, this game does offer a lot of it. The gameplay plus your partner's love will keep you coming back for more. However, a few things do at times turn out to be disappointing. For instance, you are not able to merge the game shop items and the loot items. In fact the items you buy won't even come into your usual inventory.
The quests are not only unimpressive; some of them even leave the objective unclear. As a result, you will find yourself wasting time on what was actually not required.
Lastly, the game's focus on couples and dating is so heavy that there hardly remains any place for a single player. If you won't hurry in finding a partner, the game might turn boring and dull within a few hours of playing.
Conrtols, Graphics, and Sounds
Lucent Heart makes use of the mouse and WASD controls which are pretty much the same as any other game. However, the controls do get sloppy at times. The learning curve is pretty steep. You might require hours to get acquainted of the basic controls and actions.
As for the graphics, the 3D world and characters are all good looking. They are at least not as dated as in case of many of the other MMOs we play. The characters are too cute. Some of them even look too young for dating and getting married. Sounds are well done. The score is pretty well done and effects are also better than other FTPs.
The Final Word
Lucent Heart is definitely an entertaining game and proves to be much more engaging and addictive than other violent and dark MMORPGs. We will term it as social networking fun combined with MMO excitement. So, if you need a break from your usual social network or your MMO, trying this free to play won't hurt.