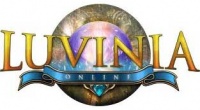 The number of Free MMOs we see being launched and released every month should make any gamer the happiest person on earth. Much to our disappointment, a huge majority of gamers still remain loyal fans of the decade old classic titles. We don't blame these users for their static taste and preferences. The problem is, most MMOs, specifically the FTPs, failed to offer a solid reason to walk away from your favorite character in your favorite MMO world and start over as a novice in a new one. Luvinia Online claims to be an exception.
Luvinia online is a new member in the crowded free-to-play club. Developed by Shanda Games, it is published by Outspark in North America. Outspark has already brought us many other titles from Asia including Fiesta Online and the Secret of Solstice. The game takes the top-down angle to offer a unique gameplay. While the gameplay and features are not much different than other MMORPGs, they do seem refined to a great extent. So, is this game able to offer a refreshing experience? Let's find out.
Story
Even the most inexperienced gamer can guess that Luvinia must be the name of some kingdom or land. Indeed it is. Luvinia is a land whose beauty was once destroyed by the Great War, a war fought between two alliances. After the war, Luvinia was won by the alliance formed by six human nations. Orcs and Elves were forced to flea and live in northwest Desert and linger city respectively. Similarly Dwarfs reluctantly joined the human alliance but later some of them went the other way.
Now in order to maintain peace, Geneway College was founded. The college train guardians and warriors. Each year number o students had to pass a test in order to get recruited in Luvina's guardian army. The future is in their hand.
Nations and Classes
Luvinia Online offers plenty of variety in every aspect. This becomes pretty obvious in the character selection and creation phase. Each player can choose from two factions and six different nations. Each nation has three base classes with each of them branching into two advance classes later in the game. The base classes are as follows.
Warrior – Warriors always fight on the front line and that is why they have the best defense. With swords and hammer, warriors are the best melee fighters. Warriors can later evolve as Fighters or Knights.
Walker – Walker are fast, agile and deadly even from a long distance. While they do not have the best defense, their speed allows them to attack and run away without any harm. Artist and Scout are the advance classes for Walker.
Magician – Magician are essentially the support class in this game. They can also deal a good amount of damage with their magic. They can increase the abilities of others but lack fighting capabilities themselves. They can further choose to be Priests or Warlocks.
Getting Started
While there is well designed class system, every player starts off as a beginner in Luvinia online. So, in the character customization mode, you can choose faction nation and other character attributes except for class. Still, we must admit that it is among the most diverse character creation modes. You can choose a zodiac sign, personality type and even voice of your character. It is quite funny as the choices vary from stern to quirky.
As a beginner every player must go through a small tutorial in order to be able to choose classes. While we appreciated the systematic approach of the game, we really think it can turn out a bit boring for hardcore gaming aficionados. Each nation has a different starting point for their beginners.
Gameplay
Although the gameplay is not different from the typical anime-inspired RPGs coming from the region, you will start to realize many good things about the game within the starting few hours.
First of the game has a steady class and progression system. While players advance through the levels by earning points and experience, they also get to choose advance classes as they progress. The first choice of advanced classes comes at level 10, the next one at level 40. And so as you progress, you will see your character evolving all along.
Questing
The questing is the same as in any other RPG. By that we mean it can easily turn into grind. Yet, for some reason it does not seem as repetitive and frustrating as in many other MMOs we have played. It is probably because of the clever addition of auto-run option. Reaching the quest area and coming back to the town is no more a burden. Now, this explains why we said the game actually refines the typical MMORPG features instead of introducing new ones.
PvP
Without much innovative possibilities for the quest system, PvP remains what makes or breaks a game. In Luvinia Online, you are not able to PvP until you reach level 40. Given the low difficulty of the game, this might only take a few hours of constant gameplay. While PvP again follows the typical formula, environment is what makes it a bit unique. Don't be surprised if you find yourself fighting Phantom maids and Butlers using a giant lollipop.
Graphics Sounds and Controls
The makers have tried their level best to keep Luvinia Online a beginners' favorite. Therefore, the simplest point and click control mechanism is used. Actually there is not much to do other than pointing, clicking and watching. Yet, we must state that the controls feel pretty smooth.
As for graphics, we think the flashy anime-inspired cutesy art style will never go out of style (though we really wish it does). The game offers nothing exceptional in terms of graphics, but overall it does have an aesthetic appeal. The only thing that feels lacking is environment details and exciting maps.
Sounds are overall uninspiring. The background score feels dumb. Most of the game is text based and you really wonder why they made you choose a voice for your character on the first place. Yet, this is something we prepare ourselves for before getting one on one with an Asian MMORPG.
Pros and Cons
+Class selection is diverse and well managed across the game
+Art style is cute and catchy
+The environment is diverse and sometimes gets completely crazy
-Despite customization, all characters look almost the same
-Difficulty level is very low
-Fails to attract hardcore gamers
The Final Word
If you want some new spices added on the same old dish, Luvinia online is bound to offer a good time. Also, it is a game targeted for gamers who want easy progression, undemanding challenges and don't mind killing cute bunnies. So, if you have a heart for all this, you are welcomed to the world of Luvinia Online.