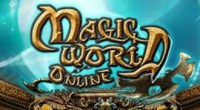 Magic World Online, a free MMORPG with from EnjoyMMO, gives players an opportunity to dive into a world filled with adventure and magic. Unfortunately, for many players the games dated graphics and built in bot system will be a huge turn off. For those players with computers that are a bit older though, they will find a game that is full of new maps to explore and monsters to slay. The usual gameplay pieces are available to players who find Magic World Online to fit their gaming style. Player housing, Instance Dungeons, Loads of Class Advancements, PVP, and much much more.
While the games built in bot system may be a huge turn off to some, for many others it is a huge boon. Players who are not looking to spend the time to level up and catch up with their friends, or for those who are just looking to get past those early levels and get into the meat and potatoes of the end game. The bot system will be a welcome sight for them.
Magic World Online certainly shows it's age, and shows it rather quickly. While the game is updated, many players will find that there are other games on the market that may hold their attention a bit longer than MWO. A few tweaks here and there and MWO could really take the step to the next level, but right now it still leaves a player with a sense of longer for just something a bit more from their time investment into a MMORPG.