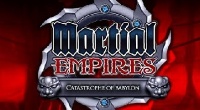 Martial Empires is a 3D fantasy free MMORPG, that simple description is just that, simple. Thankfully the game offers much more than the simple description that was just used to describe it. While the game certainly has many Asian themes that resonate throughout, the game in anything but a copycat of the many Asian themed games that exist and dwell in the realm of Ancient China. A background story gives the player the understanding that they are headed to a far away land right from the moment the game loads up and before you have even logged into the game. Let's dig deeper and see if all of this adds up to something that you should add to your hard drive or not.
Toon Creation
Creating a character can sometimes range from the very simple to the very intricate, Martial Empires gives the player the ability to choose either. When starting out you will choose from one of three base class types. One unfortunate part of this process is the fact that these class types are gender locked. Warriors and Babylonians are males and the Shadow Stalker is female. For many people this will not be a major issue, but for some it is actually a very large issue.
Warriors are pretty self explanatory, Babylonians are your more magic wielding type characters, and Shadow Stalker being more of your rogue or thief class. To be honest though, these each are a far cry from your staple classes and this is one area that the game really differs from many other generic free MMORPGs. With each of these classes being highly unique and the overall combat system being far different from things you have seen before.
Once you have selected the class you wish you play you will narrow down your starting weapon style, and you will have three to choose from for each class type. This is essentially you choosing your starting skill path as well. As the skill trees in the game follow weapon types and while you can spread your wings and venture into other skill trees to grab skills that fit what you are trying to accomplish with your character. As with many other games, you will want to find one tree and focus the majority of your efforts there as reaching the final skills in a tree are only possible with a focused effort.
Detailing your character can be one of the fun aspects of the character creation process. Once you have selected your class and weapon style, you will be able to get much more detailed in the look and design of your character. With each small detail able to be adjusted and tinkered with, one can really tweak everything down to the smallest detail. Random buttons exist for each section to allow a player to randomly pick something that will make them look different than others in the game. Either way the level of detail in this portion of character creation is always a welcome sight.
Questing and Getting Around
Once you are done creating your character you are thrust into the action almost immediately. Your first few quests will get you moving around a starting village and getting you meeting its inhabitants. Quickly you will find yourself progressing through many cut scenes and while following the storyline quests, picking up many other quests of the hunting and gathering nature. Most quests as you pick them up will go into your on screen quest tracker, and you will be able to select which quest you want to be active at any given time. This will allow you to have a quest marker on the ground lead you to the area where you can complete your quest. Also, when using the map you will be able to see markers showing you where you can turn in your completed quests, pick up new quests, or find the monsters or items needed for the quest. The system is very well done and meant to help the player progress through the quests at a rapid pace.
Most of your moving around will be done by you running from place to place, but eventually you will find yourself gaining a mount and moving around much more quickly. Longer journeys will have you using the games transit system which is made up of a web of hovercraft routes that you will be able to use to get to major areas with ease.
Experience and Skills
Completing quests and killing monsters is the basis for leveling up in basically any and every MMORPG under the sun. Martial Empires is no different, it just takes a bit longer to do so here. The games leveling curve is not the slowest, but it is not the fastest either. Either way, the nice part about the game is this is not a grinding situation where you will find an area and kill hundreds or thousands of monsters to level up. Not that you couldn't do that if you wanted to, but you will find that you level much more quickly if you use the quests to your advantage.
Each time you level you will gain a skill point which can be allocated into your skill trees to gain new and more power skills. As stated before, dabbling in multiple skill trees can be fun, but to get access to the most powerful skills of a certain tree will take focus in that tree. Nothing that seasoned gamers of the genre are not already use to anyways.
Additionally, once a character reaches level 25 they will gain skill points to allocate into their attributes. So between all these systems each character can really be unique and there are literally millions of potentially builds available.
Graphics and Sounds
Graphically the game is stunning, everything from the character models, to the animations during movement or jumping, and especially the animations during combat. The environment are lush and filled with variety so the player really gets the feel that they are travelling to a foreign land filled with adventures.
The sounds of the game are equally impressive and do an excellent job of providing ambiance and immersion for the player. With a musical score that changes with the situation, and sound effects for each skill or combat maneuver.
The Final Word
Martial Empires is a solid offering in the free MMORPG space with many aspects that players will find new and exciting and many that are familiar enough to give players a head start in the game and not make them feel lost and wandering. A few items, such as the gender locked classes, will turn some players off to the game, but overall these are very minor compared to the games positives.