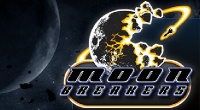 Moon Breakers, a free MMO shooter from Imba Entertainment, is looking to give Sci-Fi fans a chance to head into outer space and fulfill their shooter fix. The game boasts no story line, but instead grabs a player throwing them right into the action from minute one. The game is able to be played directly in the Google Chrome browser or through the Steam portal. Giving players options when it comes to how they wish to enjoy the game. We do highly recommend using the Steam Portal though, as there is one minor glitch with movement in the browser window (which we highlight in the video below.)
After jumping into the game quickly, players will find that the action is fierce and smooth. The graphics are gorgeous and the music and sound effects only add to the overall experience. The biggest feature that players will be drawn to though is the fact that the game is FAR from pay to win. With all upgrades only available through the games earned currency, so players must play to actually upgrade their ships. New ships can be purchased with premium currency, but this is only a matter of convenience, and not a game breaker.
Overall players who love a good space fighter game, and do not need a huge story line, but just want to get in there and blast away on their friends and foes will truly enjoy this new release, Moon Breakers.