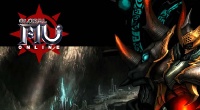 MU Online is an example of one free to play MMORPG that is defining a genre, many pay to play have now adopted the free to play model. Now, while most of these games fail to live to expectations as an ftp, they do offer a lot of things that somehow make them seem better than other FTPs. That is why these games are able to satisfy their loyal player base even after opening their gates for free users. One example of such a game is MU Online.
MU online was originally developed in 2003 by Korean gaming company Webzen. MU Online is one of only three games developed by the company so far. The game is a fantasy MMORPG with a lot of hack-and-slash elements. It draws much influence from the classics such as WoW. However, in terms of look it resembles table top RPG classics such as Diablo. The game offers some exciting gameplay and interesting features. Let's just find some more about it.
Getting Started
It is a story about a land called MU. For centuries, MU was a land of peace, but the prophecy had to become true. Chaos started to reign over the country. Power hungry feudal lords have ruined the peace and prosperity of the land. One of those lords foolishly unleashed the Devil of darkness upon the land. Waking up from the slumber, the devil has raised hell upon earth. MU is now his land. His minions are all over the place.
The prophecy also foretells about a ray of hope, and for MU it is the seal of Etramu. It is the only thing that can imprison the devil again and stop his evil reign.
The game has around six playable character classes. However, only three classes are open for beginners. Let's take a look at the beginner classes.
Dark knights – as much as we want them to look like the Batman, these dark knights are much similar to power rangers. Their costume offers them immense strength and powers. They can deal a lot of damage and launch deadly attacks in melee combat. This is a great class to begin with.
Fairy Elves – These are the fast and fabulous ones. These gorgeous looking fairies are might deceive you into underestimating their power. Their strength lies in their agility and buffs. Energy elves can assist their allies with their buffs and spells while agility elves are excellent long ranged attackers.
Dark Wizard – this is a major offensive class. They can use the power of elements to send any enemy down n no time. However, their powerful spells require more energy and time.
Gameplay
Gameplay
New players start off with a character selection which offers only three aforementioned base classes. One thing that might be disappointing here is the total absence of any customization what so ever. You don't even get to choose a gender. Anyhow, the character art is good enough to calm you down for a while at least.
The game's obvious resemblance with titles such as Diablo is visible from the very first screen. The players start off in the game world with a sense of completely getting lost. The reason is simple, there is no map. It is hard to say whether the developers completely forgot about it or if it was intentional just to make the game a little harder. In any case, it jus didn't work in the favor of the game.
However, after spending a few hours in the game, things would really start to get exciting. The reason is the fast paced combat and a well incorporated progression system. In MU Online, you just can't level up without putting a lot effort into it. There is a comprehensive skill tree that you must climb in order to keep pace with the competitive gameplay. Besides, the real fun starts after you learn a lot of skill and reach the level where you can choose from advanced classes. Seeing your character teleporting from one place to another is definitely exciting.
The basic gameplay elements are just like what we have in other classic RPGs. There are quests like in other MMOs. Most of these quests require you to do the same stuff that we have been doing in every other MMORPG i.e. Find something or kill someone. Since leveling up is quite slow, the games can easily get repetitive and full of grind.
One thing that adds fun to the game is Player-killing. Yes, it is allowed, but only once in ever three hours. However, if you fail to curb your wickedness, you might end up being tagged as a murderer. Beware! No one in MU is interested doing business with a 'murderer'. Yet, we won't say that it isn't fun, unless of course you are the victim.
Finally, the PvP-ing is also nothing extra-ordinary in Mu Online. The game does offer most of the common PvP modes including duels and guild wars. What make it interesting are the regularly held events. These events are usually easy to be won by players of all levels. They will grant you with a lot of experience and other rewards.
Graphics, Sounds, and UI
There was a time when MU online was greatly praised for its graphics, but things have greatly changed since the last decade. Newer games, even FTPs are showcasing mind-blowing high resolution graphics and fascinating details. Compared to most new games, MU Online is definitely a strain for the eyes. However, the animations for attacks and spells are really praise-worthy.
MU Online uses the simple point controls. While they do make it easier to grasp, there are always some technical issues to tackle. Most of the time, you wont be able to get your character into the action without multiple clicks.
Sounds are a bit lacking in MU Online. While the music sounds pleasant, the effects are repetitive to the point of being highly annoying. The soundtracks hardly play for the first fifteen minutes and then all you must endure is the annoying roars and screams of the monsters. MU Online clearly belongs to the list of the games that are better playable with muted sounds.
The Final Word
Although MU Online fails to set itself apart from other Korean MMORPGs from early 2000s, it does give a few good reasons to enjoy it between the breaks. The game has managed to maintain a huge and loyal player base, and this is only one of the reasons why it is able to offer a real Massively Multi-player excitement. So, if you need a little time off your regular MMO, or if you are waiting for your new favorite MMO to gather some players, MU Online would definitely fill in as your temporary addiction.