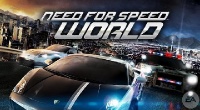 Alright folks, it's time for a test drive! This 3D racing MMOG is definitely a change of pace from the standard fare. Whether you're an avid MMO gamer or a console gamer, you'll find that this new free-to-play addition is something that you'll definitely want to check out!
International video game developer, marketer, publisher and distributor Electronic Arts has entertained console gamers since 1994 with its popular Need for Speed series. This video game mogul has widened its empire to appeal to the online gaming community and has now brought us Need for Speed World. Need for Speed World online was released worldwide on July 27, 2010. With one EA online account, you are awarded convenient access to multiple FTP games such as FIFA Online, Battlefield, and BattleForge as well as a variety of EA Sports games.
Warm Welcome
Immediately, you'll note the feel and style of this MMO is consistent with EAs console game style. EA is really revisiting its roots in PC gaming; so this should come naturally. Need for Speed World online is very user friendly. Once you've successfully downloaded and installed the game, which is about 5MB, you are instantly taken through a tutorial. I love this! I've said this before; a good tutorial is like a warm welcome. This tutorial walks you through picking a name, choosing an avatar, and picking your first car.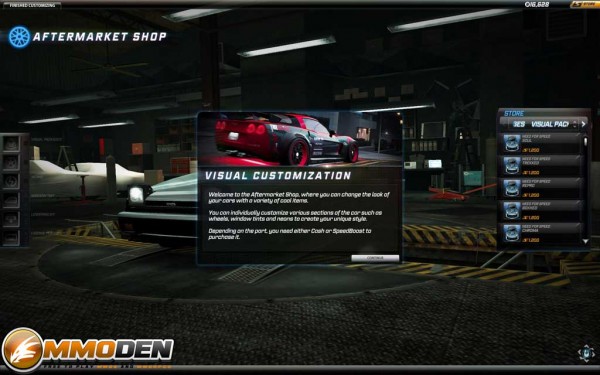 Boost Your Ride
Okay, so we're not really lifting cars… but it sounded cooler than "Buy Your Ride," right?
To choose your first car, you are taken to your garage, which is referred to as your safe house. Need for Speed World starts you out with 35,000 game cash. Your choices are limited to the tier one rides. With the exception of one car, the purchase of your first ride will set you back twenty-thousand bones. As it stands, the only free car is a Mazda Speed 3 exclusive, which is decked out in T-Mobile adverts. You are given the opportunity to give it a paint job, but for that, you'll have to shell out 20,000 game cash anyway.
Tier one model options include: the Mitsubishi Eclipse GT, Nissan Silvia, and Nissan 240SX. Also included in the first tier are a couple VW and Dodge models, which are locked. I suppose the purpose is to entice you into further game play. Cars in the second tier range from 60,000 to 250,000 game cash. The makes include Audi, BMW, and Lotus to name a few. Tier three cars include the well sought after Lamborghini. If you're looking forward leveling up and owning a tier three beauty, be prepared to shell out anywhere from 600,000 to 1,200,000 precious game cash.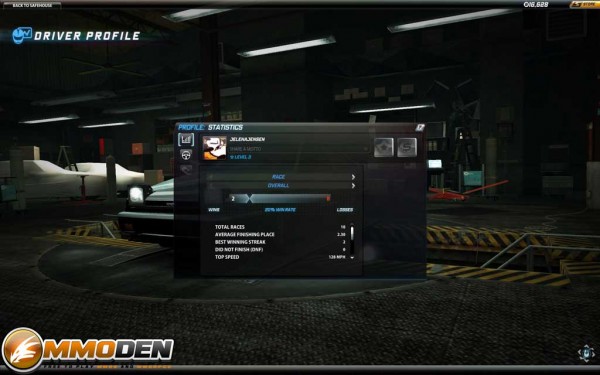 Take it to the House
Each model is offered in a selection of colors. Want to tweak that ride and make it yours? You'll have to take it to the safe house. The safe house is where all the customization is done and where drivers go to hide from the police. And, as I mentioned before, is where you start the game. Car customization on Need for Speed World is brimming with possibilities. When choosing your paint color, you are given a full color palette to play with. You're also given the option to choose your paint's finish. The body of the car is sectioned off into segments and each segment can be painted differently.
Add the full collection of vinyl decals and visual packages to the infinite color selection and the possibilities are endless. Well, almost. Starting out, most all of your customization options are locked, sans the paint color; which you still have to pay for with game cash. Everything else requires higher level status. With that being said, you can still have a lot of fun channeling your inner Foose. At least you're not forced to pull out onto the street driving the exact same ride as everyone else.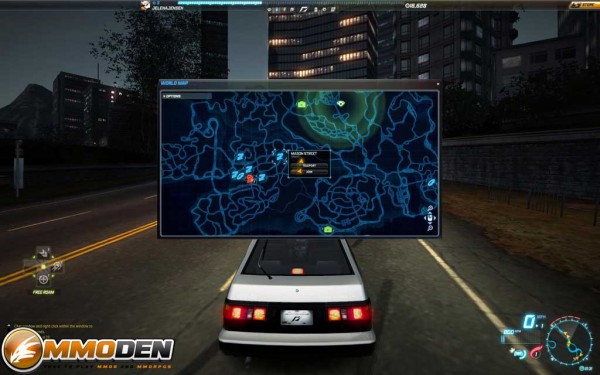 Driver's ED
The controls in this game are basic, but don't let that fool you. It took me a bit to get it down. You can use A, W, S, and D for acceleration, braking and turning. The arrow pad can also be used in the same manner as A, W, S, and D. To brake, you may also use the spacebar. Or, you can combine any of the controls as you see fit. For left-handed gamers, the A, W, S, and D controls might work easier whereas the arrow pad would be more comfortable for a right-hander.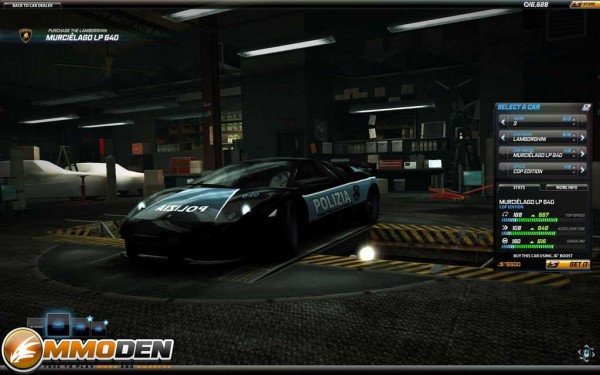 License and Registration Please
In Need for Speed World online, there are a few ways to game: cruising the streets of the persistent cities, racing on instanced roadway sections, or pursuit. For new players, the tutorial is still going and preparing you for your first race.
Your first race is against the AI. Outside of the tutorial, players can drive to designated places in the world to find races. Those are clearly marked by floating blue signs. You can also see them on the main map as well as the mini map. Similar to pursuing a NPC in other FTPMMOGs, you can drive to those points manually or click on them when looking at the map and be taken their instantly.
To play a multiplayer game, you can enter a public match making queue or create your own private room and personally invite users to join. Multiplayer games offer the most rewards and are really the MMO of Need for Speed World.
Races are instanced and separate from the city. The tracks are fenced in with glowing arrows. Just like the Need for Speed console version, the courses are designed well and have nice scenery. With the exception of a few shortcuts, the tracks are pretty straight forward.
Pursuit is just that; you are being pursued by the police and your objective is to elude them and cause as much damage as possible to both the police cruisers and surrounding environment. To keep from being caught, you use a meter similar to that of a radar detector. The higher the reading, the closer they are to you. Once the radar is at its highest reading, you're busted—game over. When you are caught, you pay a penalty out of your game cash. However, you do earn rep points which we will discuss later.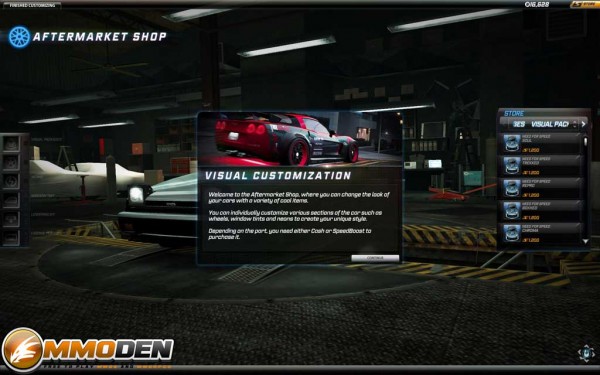 Show Me The Money
In Need for Speed World online, there are two ways you are rewarded. After a race, win or lose, you are rewarded with game cash and reputation (rep) points. The game cash can be used to buy cars and also used to trick them out. Rep points are similar to XP and allow you to level up and unlock new cars, races, skills and customization options. The downfall is that you are given no indication of how much you need to accumulate from level to level; or how far away you are from the next milestone.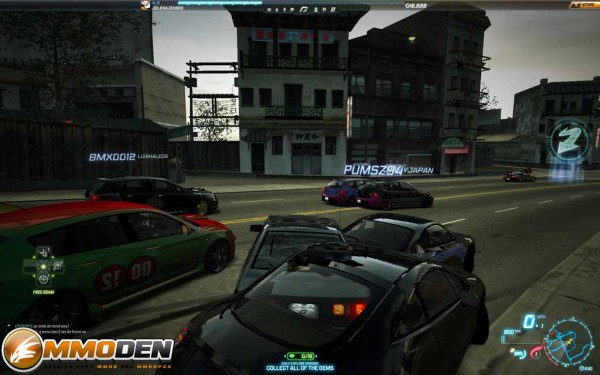 Mad Skills
Power-ups, are divided into three skills categories. Race power-ups include Nitrous, which gives a speed boost; Slingshot, to catch-up to the leader; Traffic Magnet, summons AI cars to slow down the leader—to name a few. Explore power-ups are used when cruising through the game world. The last power-up category is Pursuit. Pursuit power-ups are used when running from the police.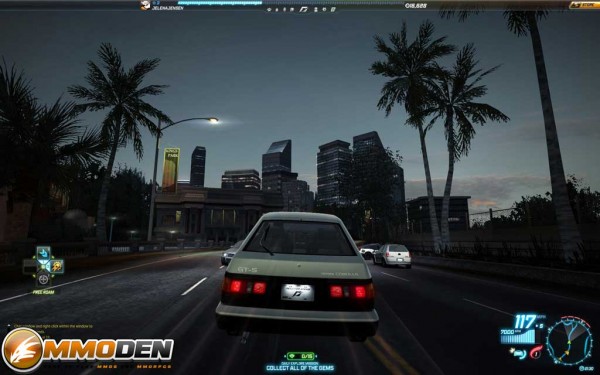 The Final Word
Who doesn't love an EA game, really? They are the best of the best in the world of video gaming; be it PC, online or console. The graphics are boss and in general the quality of EAs FTP has not differed from their console games. Keep in mind, I said quality—not content quantity. This game lacks depth.
In regards to car customization, the game has gained a lot of depth over the years. I love the color palette and the paint styles that are available. Having to wait to unlock the decals and such is a bummer.
This so-called FTPMMOG is short on diversity and features. The social elements lack severely; even when exploring the "world" alongside hundreds of other players, you still feel isolated. So what's the bottom line? If you're big on grinding and possess patience when waiting for level promotion, then you'll enjoy this game. You'll like it even more if you're prepared to shell out your hard earned money to continue past level 10 on this "Free To Play" title. I give Need for Speed World a 4.0 for false advertising. Until next time, game on!