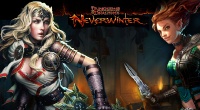 When it was first announced that Perfect World Entertainment purchased Cryptic and that they were taking the upcoming Neverwinter title and converting it from a standalone RPG to a Free MMORPG, my eyes lite up with joy. Having played games going back as far as Pool of Radiance in the Forgotten Realms universe, and playing table top D&D for years before that, any time a new adventure in the Dungeons and Dragons world presents itself, the kid inside of me beams with excitement.
Then came the waiting, this announcement you see came at the end of 2011, and I had a chance to speak with a representative from Perfect World in March of 2012 at GDC and get filled in a bit on how Neverwinter was progressing. They enlightened me that the end of the year was a soft target for them. So we progress forward through the year and the end gets near and we still have no news of a closed beta for Neverwinter, that excitement flame inside of me slowly begins to dim. While updates still come, and news of the game is still presented. I was at a point that I needed to play it before I could really get excited again.
So we fast forward a few more months and the announcement of founders packs comes hot off the presses. At first I have to admit that I was not thrilled about this idea, and neither were many others. But I took the time to take the information in and really digress. After some deep thought I came to understand what PWE was doing and I agreed with it.
Then came the first Closed Beta Weekend, I dove in the deep end! That fire that was ignited a year and half prior once again was ignited, and this time burned brighter than ever.
Fast forward another couple months and here we are in Open Beta, and that fire is not only still burning, but it is honed in on a game that has completely turned the Free MMORPG world on its head. Let me start by being blunt, "Neverwinter is the Best Free MMORPG on the Market To Date!" Yes that is in quotes so I am easily quoted. The game is not with out flaws, they are minor, but nothing on this planet is perfect. Yet everything about Neverwinter will pull a player in, the combat, the scenery, the music, the live in Protectors Enclave.
The game is an absolute joy to play top to bottom, and has officially thrown down the gauntlet to to all developers and publishers of Free MMORPGs and challenged them to severely step up their game.
Watch my full gameplay review below and see what Neverwinter has to offer.
Don't forget to subscribe to our YouTube channel!