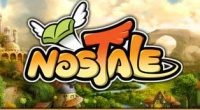 In a fantasy world of cartoon-like characters you'll discover a Free MMORPG which offers a very unique style of gameplay. Even those gamers who don't particularly enjoy colorful cartoon themes will find depth and fascinating gameplay in this feature packed role-play game. Interested now? I thought so! Let's jump right on in to this exciting free to play mmo!
Developed by Entwell and published in North America by Uforia, NosTale — short for Nomads of Silver Spirt — was originally release in Korea in 2006. NosTale was, at one time, translated in Czech, Chinese, German, Japanese, Italian, French, Russian, Spanish, Polish, as well as English. As of December 31st, 2010 the global version was discontinued and all that remain are the UK and English versions.
The Second Dimension
Starting out, you're sure to notice the 2D graphics that give the feel of an old-school game. Jumping into character creation, prepare to be a bit disappointed if you enjoy turning your avatar into a unique reflection of yourself—it's not gonna happen. Once you've chosen your gender, you'll then choose between one of 2 hairstyles and a handful of hair color options. That's it. You leave character creation feeling like you've lost a part of yourself. Okay, well, not really—but come on, how hard would it be to add even one or two more customizable features, really? Sheesh.
Characters in NosTale begin classless and do not obtain an actual class until level 15. There are two levels for players to build upon. One of those levels is referred to as the Combat level which increases as you complete questions and hunt monsters. The other level is called the Job level. The Job level resets from job to job.
As I mentioned before, classes start at level 15. The different classes are: Swordsman, Archer, and Sorcerer. Here's a little bit about each class:
Swordsman – Swordsman function as tanks and have high HP. However, they have the lowest MP and are often hard to heal. This class excels in close combat with the use of the sword.
Archer – This class has well balanced HP and MP. Archers are able to use their NosMates as shields, though they are unable to heal them. Their weapon of choice is the bow.
Sorcerer – Sorcerers have low HP but high MP. They are capable of self healing as well as healing their allies. Sorcerers are very vulnerable and depend on their pets and NosMates to absorb their attacks. Their innate magic skills serve as their weapon.
Each class has 4 main Specialist Cards: Fire, Water, Light, and Dark—one for each element. When you use one of these cards, your character will transform into a specialized class complete with a unique skill set. Most Specialist Cards can be obtained when questing. All specialist cards require certain levels to be reached before one can access these classes and skills.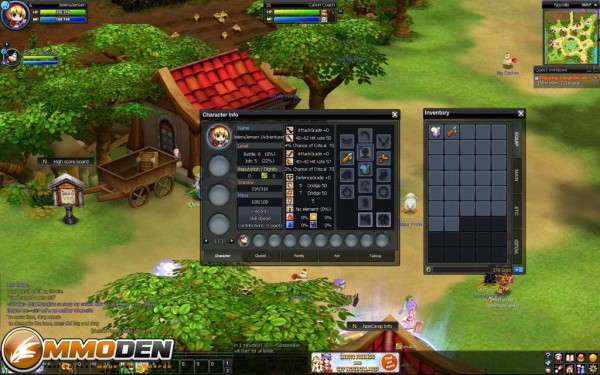 Let the Adventure Begin
Your adventure starts on the East Mile on the continent of Nos. The only tutorial you are offered in NosTale is the option to complete tutorial-like quests. Those quests teach the basics of NosTale as well as how to catch animals and tame them.
Animals play a very large role in NosTale, thus the pet system. Starting out, you'll only be able to tame smaller pets such as sheep and chickens. As gameplay progresses, you'll be given the opportunity to work with dragons and various monsters. Pets in NosTale are a lot of fun as they can be trained and taught new skills, and even progress through levels just like your avatar. However, if your pet isn't fed, it will refuse to obey. While you can only use one pet at a time, you can also summon the assistance of a NosMate who is a NPC mercenary.
The adventure continues with another fun NosTale feature called Mini Land. Not only is Mini Land where your pets are kept, but it's your home. Your instanced home may be customized with things like furniture and even landscaping—flowers and trees. All new pets are taken automatically to your personal Mini Land.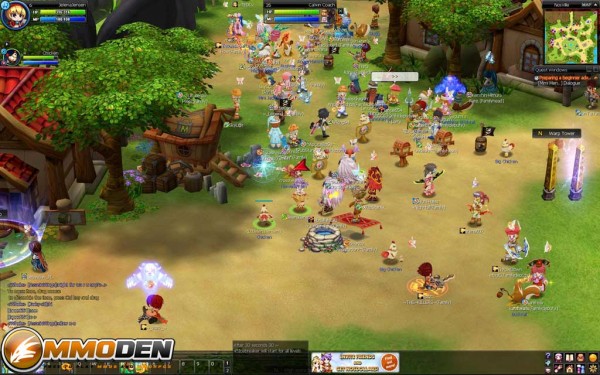 NosTale's Tale
The developers took the time to really establish a story-driven questing system—the Main Quest. The Main Quest is divided into chapters, referred to as Acts, which progress in a series. Each portion is labeled like the portions of a play. For example: Act 1-X is first followed by Act 2-X, etc. The "X" stands for the number of scenarios in each Act.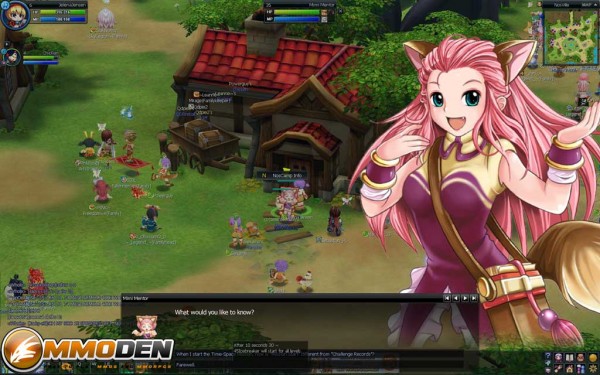 All The Action
NosTale combat is simple, straightforward, easy to learn, and very traditional. To attack your opponent, simply left-click and your character will take a swing. A word of wisdom—I speak from experience—beware when battling around teleporters. If you're not cautious, you may end up teleporting yourself away from the battle instead of attacking. As you advance through the different levels, you'll be informed of your new available skills as well as how to assign them to various hotkeys.
NosTale also has what are called Time Stone missions. These are generally tied into a quest line and, for the most part, are timed. Time Stones are set up in a series of rooms which are almost completely indistinguishable. Time Stones are rewarding and players are generally able to respawn up to 3 times. If your NosMate dies it will come back to life, however, they will not respawn for a short period of time—about 3 minutes.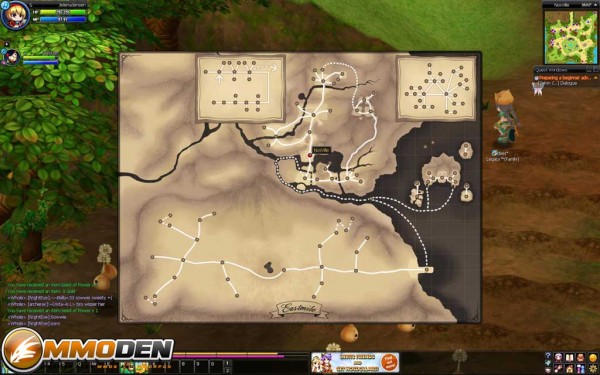 The Godfather
NosTale put a unique spin on guilds with its Family system. I can't help but think of The Godfather when I think of this system—it's impossible not to! In the Family system, the structure follows a hierarchical system. The leader of the family—the founder—is called the Family Head. As the Family Head, you have the ability to do as you please, including adding and removing members and even disbanding the family. Beneath the Head are 2 Deputies. Their abilities are just about the same as the Head, however, they cannot disband the family. There are also 3 family Keepers and their abilities are decided by the family Head. By default, Keepers are able to add new players to the family.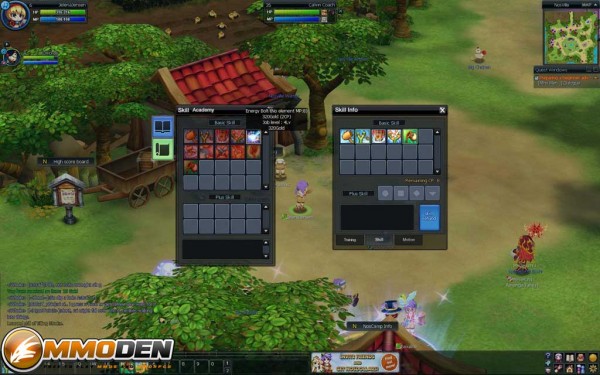 Land of Death
The topic of Families leads us to this topic, the Land of Death—or LoD. LoD is a feature only available to families. The LoD is a map in which a family can go to battle monsters with kill levels of 70 and up. A single LoD session lasts for a full 2 hours as Family members are required to implement team work in order to successfully battle very tough monsters.
Within the initial hour, Family members are able to come and go freely. However, once the first hour has come and gone, the Dark Horn will make its appearance. The Dark Horn is a nasty enemy that can generally kill a character with a single hit—it has extremely high HP. At this point, teamwork is even more vital than before—it's imperative. 60 seconds after the arrival of the Dark Horn, it disappears and the entrance to the Land of Death is then closed. This means that those who either die or leave will not be permitted to re-enter until the next LoD session. Players are free to kill as many enemies as possible for a total of 4 minutes—then the Dark Horn reappears. This series of events continues for another hour. Once the hour is up, everyone who has survived is then removed from the LoD.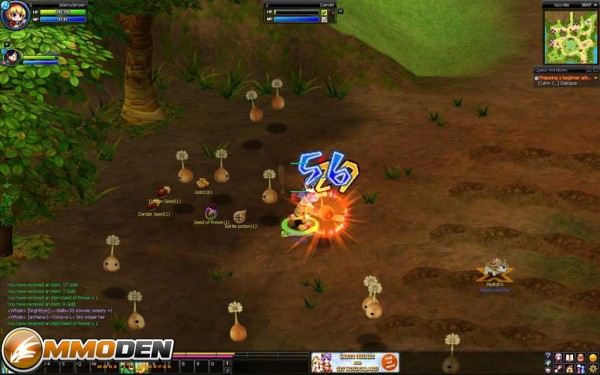 The Final Word
NosTale is definitely a fun take on the MMORPG genre. Unfortunately there are a few elements of NosTale that are disappointing. Just like many other MMOs, the English text translations leave much to be desired and stand to cause confusion. Another one of those disappointing elements is the character creation process. The developers didn't use much creative brain power when they developed the NosTale monsters, either. Most all monsters look the same, regardless of what level you're on.
Like I mentioned before, NosTale is very user friendly—a newbie can jump right in with no problem. NosTale comes complete with storyline depth, exciting quests, and unique systems. Add to that the colorful and fun graphics and comfortable UI and you've got a winner!