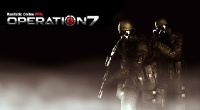 You may be thinking to yourself, "another FPS free to play MMO? Why, oh why!" Well before you go and throw this one to the sharks, take a few minutes to read what we have to say. Operation 7 may not be the best looking FPS Free MMO on the block, but it does have some neat features that set it apart from the rest of the pack. Are these enough to make a great game or just a good one? We will talk about them, and then give our opinion. When all is said and done, only you will be able to decide if Operation 7 is the game that you have been looking for, or if it is just another in a long line of Free first person shooters that you will not be playing.
Character Creation and Training
It is rare indeed that when you first jump into a FPS in today's day and age that you actually get to create your character. Now we are not about to say that you should expect the type of customization that comes with a game like Perfect World or Fallen Earth, but being able to choose from several different outfit options certainly does add a bit of charm to the game and gives the player the opportunity to differentiate themselves from the hordes of other players. These options carry over into the gameplay as well, which is a nice added touch.
Getting your feet wet always requires a bit of training, as so many games look to add a feature here or there that will make the game different, running through the quick 5-10 minute training tutorial is worth it to see the features that Operation 7 has that are different from its competitors. The main thing you will learn is that Shift is to Crouch, CTRL is the Sprint, Q and E are to lean left and right and shoot or look around corners (Probably our favorite), and F will allow you to use your hand to hand combat option without having to change weapons. While we have let you in on most of the things that are different here, we still highly suggest that you run through the tutorial.
Weapon Selection and Previews
Of course whenever players are looking for their new favorite FPS games they want to see that the game has a lot of weapon options. While Operation 7 does have quite a few options in the armory, many of them are going to be locked up and sealed away until you can reach the higher levels, of course getting to the higher levels can take quite some time, so in truth you are going to be stuck with some pretty crappy weapons for quite some time. This is one area that the game could really use some improvement, players do not want to spent weeks leveling up a character, playing day in and day out before they can even use the next tier of gear. In our opinion this is just too long to make them wait before having new gear available.
Now, with the above said, any piece of weaponry can be taken over to the firing range and played with for free. So you can test out any weapon you would like and blow some holes in targets are varying distances. A nice feature especially for those who are trying to decide between many different weapons.
Also, once you have your weapon of choice selected, giving your gear a few extra perks never hurts, all of which can add to the weapons statistics and create a more efficient piece of weaponry. This does not come cheap, so if you want a new stock, or barrel, or magazine. Expect to work hard for the money before you can just make these changes. All of the above, of course, is only relevant if you plan to not spend any real world money. If you decide you must have some of these items or tweaks and want to pay for them, the game is going to be the last thing to stop you from doing so.
Modes and Maps
At the heart of every FPS MMO are the modes and maps that are available, and lets just say that Operation 7 has more than enough to keep the hardcore player happy. Now with that said, many of the maps can be considered overly simplistic, or even far too wide open. Some players have even complained that many of the maps were thrown together without much thought and so they are not used very often by those players creating new games. Yet, there are still plenty of good maps that are used regularly and players have found to their liking. Dependent on which channel you are in there are limitations though, if you start out playing in the beginner channel, you will find yourself playing with many more players in the lower skill levels, but you will have a limit on the maps and modes that will be available.
With the maps come the different gameplay modes, most of which are your standard: Deathmatch, Survivial, Demolition, but there are a few that are different from the normal. Gold Rush, Head Hunting, Hold the Line. Each of these have a certain condition that must be met in order for the game to be a win or a loss. Nothing to crazy here, pretty simple stuff actually, and it is smart for the game to keep this simple and geared toward what players know and understand.
Graphics and Sounds
Graphically speaking Operation 7 would find itself in the middle of the pack. Not the worst, but certainly not the best. For a game that seemingly would work so well on so many machines, the lack of playerbase is disturbing. Granted, this may also be due to the fact that the games publisher does a tremendous job of booting hackers from the game quickly, and working very hard to keep exploits to a very minimum. So it is hard to look down on a game that is potentially hurting itself because it protects its playerbase so diligently from those who would cheat.
Sound effects and music are pretty much on par with the genre, it is always difficult to knock and game for sounds as have music while in the lobby and standard gun fire and explosions are pretty simple and, as stated, standard. With that said, there are some times when there are voice overs, and these are pretty entertaining. Though it is not believed that they were meant to be as entertaining as they are. They are pretty cheesy and pretty much laughable. So whether they were meant to be that way or not, they do add to the entertainment factor.
The Final Word
While this is a solid offering to the genre, the game does have some hang ups. Getting into the game alone is not as easy as it should be. If you are running Firefox or Chrome, you will need to either run the game from IE or use a plugin for your browser to make it work. There were some Full Screen issues that we ran into while playing the game that caused us to have to re-install the game twice. Graphics are a bit dated, but this could also be a good thing as it normally attracts more players, but due to the games strict anti-hacking and 18 years or older policy, the playerbase is a bit lacking. The bones are there for a good game, it just seems like there needs to be something added.