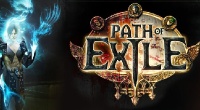 Path of Exile, the free action MMORPG from Grinding Gear Games, has had a captured audience for some time now. From the day the game entered the scene, fans of the isometric/Diablo-like gameplay started to salivated, myself included. The developers spent quite some time in closed beta testing, and while players were not freely invited to join they did have the option to become a founder, support the games development and have access to this beta testing phase. This closed door access only increased the size of the fanbase, as the game was already polished and the developers were active in listening to their playerbase and made sure to implement and create a game that was not only familiar in nature but had a unique style all it's own. Something rare in todays game world.
The story is simple, as you are exiled along with all others who are in the game world. On this exiled world you will fight for everything you get, including battling it out with other players if you so choose. To help along the way players will choose their path from the many passive skills that are available. When I say many I should say hundreds! The skill tree is a small forest of which players will have a starting point based upon their character selection, but from their they will choose their own path, with multiple options that are completely viable options.
These passive skills will not be a players only choices though, as many quests will reward the players will skill gems that will allow the player access to many attack types, spells, and more. These gems will also level up with the player and become more powerful. Each of these gems will need to reside in an item, whether it be a weapon, a piece of armor, or some other equipped item, it will have to have a home. From there players will be able to link support gems that can modify the base gems in many ways. This is where things really get interesting. On top of that, this is where I really tip my hat to the developers, they balanced all of this making sure that no one character is exceedingly more powerful than the other. Which is quite simply astonishing!
Since I mentioned items, I want to tell you that I have yet to find a single item that is the same as another. The random properties of each item makes the eternal search for items that are better or have that one attribute you want endless, in a good way. Additionally, the game goes without currency, you have been exiled and everything in this land has as well. So the game uses a barter system where you will collect items that are meant to do a wide range of things and these have become the currency of the land.
Overall, the game pulls you in from the minute you begin, and the fact that there is a hardcore mode that gives that bit of additional challenge, and risk, I was sold. Then throw in an active development team, and more coolness factor than you can shake a stick at. It is hard to deny that Path of Exiles will go down as one of the top games of 2013. See for yourself in my full video review below.