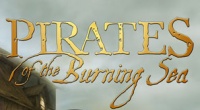 Pirates of the Burning Sea, a free MMORPG swashbuckling title for Sony Online Entertainment, will give players who are craving the adventure on the high seas a chance to take on the role of pirate or privateer and sail the high seas, of the Caribbean that is. Along with the choice to be a pirate or a sailor in one of three royal navy's, players will choose between one of a few different classes to define their skill sets. A players final choices during creation are fairly limited, something that is a bit surprising for a game that was once pay to play. Yet the choices a varied enough that players can showcase their personalities in their character customization.
Once in the game players will have the option to run through a small tutorial, highly advised for any new players as the game has several mechanics that are unique to Pirates of the Burning Sea. Mostly getting accustomed to the three different battle modes that will be a major part of any swashbucklers career.
The majority of a players time will be spent between the many ports of call and the sea. The game is loaded with quests that will take the player from land to sea and back again. Over time players will upgrade their ships and slowly build up their reputation as a menace or marauder, each having their own pros and cons.
Overall Pirates of the Burning Sea is a quality game that certainly will give any player a nice break from the fantasy genre that seems to be so very prevalent. Ship battles can get intense and take some major strategy along with a little luck. Being able to board ships and capture them is a very nice addition and makes for some added tension in the PVP realm. Graphically the game is holding up nicely over the years, but an upgrade looks to be needed in the near future.