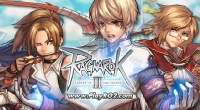 Many times when we think of sequels we think, "oh boy here we go, a company or franchise just trying to cash in on a name." One could easily think that with Ragnarok 2, the free MMORPG from Gravity Interactive. If you take the time to dig a bit deeper though, you will see that this is not really the case.
While the game is certainly playing off the popularity of it's predecessor, Ragnarok 2 is 100% its own title. The game was revamped from top to bottom twice, as the developer wanted to make sure that its release was worthy of the name. Now almost 10 years later we have a game that is 3D where the original was 2D, a modern graphic engine that showcases the games anime art style. A deep and engaging storyline that will give players the depth many of today's titles lack. This list actually goes on and on.
So take a look for yourself in the full gameplay review video below and see all the new features that make Ragnarok 2 stand on its own two feet as a solid offering to the free MMORPG world.