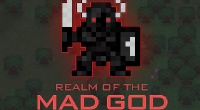 So often we as gamers find ourselves drawn to the latest shiny object, that being the game with the prettiest visuals. Many times only to find ourselves disappointed due to the fact that the game has a nice pretty shell, but is hallow on the inside. This of course is not the rule of thumb of course, but we have all either spent money on a game or spent time downloading a free to play title that we thought looked great and found ourselves wanting so much more after the WOW factor wore off and the visuals were no longer holding our attention.
Realm of the Mad God is not here to become one of those games, the game is build on a 2D pixel platform that is far from visually stunning, but the game is here to grab your attention with many other features that will grab hold of you and not let go. Calling itself a multiplayer co-op fantasy MMORPG shooter. Realm of the Mad God is also drawing upon your sense of nostalgia for games of old that drained many hours and potentially many quarters from your pocket.
Keep reading and see if you are ready to jump in and take on the Mad God himself Oryx.
Getting Your Feet Wet
Getting started is as easy as jumping on the games website, or downloading it from Steam. Yup, this is just another one of many F2P titles that have made there way onto the Steam platform. Once you have your account created on the wed or the game downloaded on Steam. You will start off as the games only available character class, at least when you start, the mage. Weaving your way through the tutorial is simple and easy. The tutorial does and excellent job of showing you the basics of gameplay and all the commands you need to get started. There are a few more advanced commands (I for autofire, and F5 for Nexus Portal) that are not covered, but you can look in the O for Options and see these or know since you are reading this review.
Leveling Up and New Classes
Leveling your character is pretty easy, and you have several ways to make this happen. You can run around solo slaying monsters, or you can find some friends and kill monsters together. The latter is highly recommended as it is very easy to take down more monsters faster with more people. Now this is where things get a little more strategic and advanced. Sure you can find a few players to run around with and defeat a low level boss and his minions here or there, but the real exp is in either kills en masse, or high level slaying.
Here is the part where we actually are going to go more into the Pro Tip side of things and less into the Review side of things. These are just a couple tips that will help you level up quickly. First, find a train — finding a train of players who all run around in a train like formation is probably the absolute fastest way to level up. You will kill monsters is large quantities and get massive amounts of experience. Also, there will be loads of drops so you can gear your character up for once you reach level 20 and want to try your hands at more difficult dungeons and gods. Second, teleport (more on this in a second) to the middle of the zone you are in and help kill gods. Now for the most part you are not going to be high enough level to do much damage, so your job here is to stay alive and just absorb experience. Since the bosses will respawn regularly, I do not recommend this unless you are supremely confident in your dodging skills, as there will be damaging spells coming at you from every direction.
Either way both of these techniques will allow you to move up the levels quickly and open up the other classes of the game for you to play. As mentioned you will have to start off as a lowly Mage, and each class after has to be unlocked by leveling up a prerequisite class. Mage unlocks Priest, Priest unlocks Archer, Archer unlocks Rogue, Rogue unlocks Warrior. You get the picture. Overall there are 13 different classes in the game and each has it's own special abilities and special gear that it can use. But when starting out you will only have 1 character slot, so you will either have to sacrifice yourself to play a different character or spend some cash to open up another slot.
Death
Realm of the Mad God has a permanent death system, so if you die, you die! Yup, it is that serious. Now you may think that this seems harsh, but after playing the game for a bit you will see that leveling up is pretty easy to do, gathering gear is a different story, but either way, death is not the end all be all that it is in many games. This doesn't mean that when you are level 20 and have some pretty nice gear that you have spent a few hours hunting down and you die that you will not be pissed off, but at the same time, the amount of investment into the aforementioned is not months or even years, more like just a few hours.
Of course there are potions that can save you from deaths door, but one popular way of saving ones self is to teleport out of the situation. The game allows you to teleport back to the Nexus, which is the games central hub for players, instantly with the F5 key. Players can also teleport instantly to other players on the map by clicking on them and then selecting teleport. This is great for when you are trying to join a train, jump into the fray against bosses or gods, or just for escaping danger. The teleport function is one of the most used tools in the game for many reasons. Plus it is pretty fun to just jump around the screen and see different places. Of course there is a cooldown with the teleport so use it wisely.
The Final Word
It is worth it to take the blinders off for a minute and jump into a game world that is just purely fun and entertaining. The developers have also done an excellent job of incorporating some humorous monsters and dialog into the games space. Taking down monsters with large groups is a blast, the physical challenge to keep your character alive and slay a boss at the end of a dungeon is also loads of fun. Overall the game has a lot to offer, for those of you who may look at the game and laugh it off due to the 2d pixel graphics, you will actually be missing out on an experience that is quite enjoyable and provides a ton of repeat gameplay.