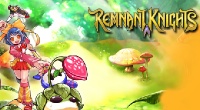 Anime inspired 3D fantasy free to play MMORPG, a title that is given to an increasing amount of games in todays free MMORPG market. With so many new games arriving on the scene in this genre, publishers and developers are going to have to start looking to differentiate themselves from the pack. While there are many ways that a game can accomplish this seemingly daunting task, many will ignore it and progress down the road of the status quo and produce games that will be white noise in a crowded gaming space. Gamesamba, the publisher of Remnant Knights, is not looking to find themselves in that same situation. Giving players 24 hour GM support and events, battleground style PVP battles, and a storyline written by an award winning graphic novelist may just be what you are looking for in your new favorite Anime MMORPG.
Prepping for Your First Day at School
Just like any other MMORPG you are going to start by logging in and creating your first character. Now you are going to want to choose your school wisely as once you have chosen Dragon or Owl, all subsequent characters will also have to belong to that school, so no spying!
From here you will continue down the usual path of choosing a name, face, hair style, and hair color. When looking into which class you are going to want to pursue, the game follows with the school theme and you actually choose one of three basic circles, Gun, Magic, or Fight. Then each of these circles have two classes for a character to choose and specialize in and choose their skills from. With the Gun Circle allowing for a character to become either the Heavy Launcher or Dual Gunner. The Magic Circle options are Elementalist or Priest. Lastly, the Fight Circle choice can yield either a Striker or Crasher. The basics apply to each of these classes, and it is very nice to see a very simple system for players to just jump in and grab hold of the class they with to play right from the get go without having to go through multiple job advancements and such.
Early Lessons and Skills
Now that a school has been chosen, your character looks the way you want them to, and your circle and class has been decided, you can get started and jump into the fray. As soon as you log in you will find getting around to be very simple. The game gives the player several options to move around, from WASD to click to move, and even the ability to pull up the map and click anywhere on the map and have your character take off to that spot.
Quickly moving around will become key as the game will start out by sending you around to meet many of the professors and other citizens of your school. Many of them will have lessons for you that will be invaluable as you progress through the game. Others will start to give you quests that will send you out on a variety of missions that will have you completing tasks such as kill X number of Y monster, or collection a specific herb or rock, traveling to a specific location, or killing X monster to get Y number of a certain item. All the usual flair exists in the question system, but done with just the right amount of variety.
Combat in Remnant Knights is pretty much based around the simple system of having a basic attack and then using your skills to turn the tides of battle even more. Skills, while not overwhelming in number, are very well done, and in the case of most of the combat skills, they do area of effect damage, attacking up to 3 targets. Killing monsters, en masse, not only helps your character to progress through the levels faster by yielding additional experience, but also helps you to complete quests at a much more rapid rate, something that no gamer ever complains about.
Dueling and Marble Battles
As your character progresses and you start to work you way up the ranks and graduate from Grade 1 to Grade 2 and so on, you may start to thirst for PVP. If you want the basics of PVP then you can challenge any player to a duel. Not only is this entertaining, but also very good practice prior to entering into the big show of PVP, the Marble Battles. Before we get too far ahead of ourselves with Marble Battles, there are also Arena Battles where players can either jump into the arena 1v1 3v3 or 5v5 and battle till only one team is left standing.
Marble Battles bring a whole new dynamic to the PVP of Remnant Knights, and while battleground type PVP is not new to the MMORPG genre, the Marble Battles are well done and quickly become a fan favorite inside of the game. These battles take place with Dragons and Owls pitted against each other on a battle field that is highly intense. With 10 or more combatants on each side, the battlefield has 3 control points, call Terminals, controlling these terminals will generate points for your team and the first team to reach 2000 points wins. These battles are also broken out into level ranges and players can start participating once they are level 10.
Graphics and Sounds
Graphically, Remnant Knights is mostly what you expect from an Anime inspired free MMORPG, but the game does something that you rarely see in Fantasy games. Throwing in a bit of steampunk or present day pop culture, references to Chuck Norris, and seeing mounts that are hoverboards, while these are still just mounts to get you from point A to point B, they are very well done and the animations are solid. While on the subject of animations, the combat animations are also excellent, and each skill has their own visuals to add to the entertainment value of the game.
On the auditory side of things. Sound effects are great, and the music will have you bouncing in your seat and nodding your head to the beat at times. Very well done.
The Final Word
Remnant Knights has knocked this one out of the park. Taking a basic gaming model and adding things that are not usually seen to the mix. Throw in the fact that there are GMs online 24/7 that are not only there to deal with issues, but also to run mini events and chat with players, this just adds a nice personal touch to ones gaming experience. So if you are or even if you are not a fan of the Anime free MMORPG genre, check out Remnant Knights. It is hard pressed for us to think you will be disappointed.