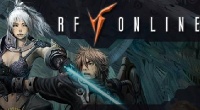 RF Online, a Free MMORPG from GamesCampus. You can take an MMO out of fantasy but you just can't take fantasy out of the MMO world. We must admit, no matter how big of a "Tolkien's fan" you are, the repetitive use of fantasy creatures and worlds in MMORPGs is just sickening. Apparently, North Korean Game Development company CCR found the perfect cure, not an antidote but a vaccine. They added the right amount of sci-fi elements into fantasy and formulated a healthy free MMORPG to refresh the senses of helpless MMO fans-they named it Rising Force Online aka RF Online.
Originally released as a South Korean game in 2006, RF Online is now played in multiple countries including China and North America. It was initially a pay-to-play 3D MMORPG but now it is a free to play game. The game has been praised for its unique Sci-Fi theme and PvP based game play.
Since it was a pay to play game, the effort put in its production is pretty evident in the overall gameplay. Everything, ranging from features, items and visuals in the game, work together to offer a captivating gaming experience. The story is set in a distant planet in the extensive solar system called NOVUS. The story revolves around three basic races, each one at war with each other. They use both the technology and magic to empower themselves and beat their enemies in this futuristic setting.
Along with some of the traditional MMORPG element, RF Online is an innovative game. The grinding and leveling up formula for getting points is not quite effective here. Rather, players are rewarded for using a certain skill. This way, the skill you are using the most is the one that will grow stronger. This kind of skill progression system is mostly seen in single player PC games but in MMO innovative, or rather fresh. Overall, the gameplay is so exciting that you can play it for hours and hours.
We have used the world innovative for this game, and now it sounds like an understatement. It should be something like revolutionary. The game features the traditional element in a way that we haven't seen before, and that it does successfully. So, the questing is there in RF Online as well but you won't always be running to NPCs for help. Rather, quests are much stronger a part of the storyline as a player progresses through the game. They are like connecting points of the story. You can start a quest anywhere and anytime.
There are three types of quest. The Instant quest is automatically given to the player after a certain milestone such as upgrade. A special quest is one that you will have to visit an NPC for-Yes, NPCs are still there. Clue Quest requires cooperative effort of a party. These quests are important part of the main scenario.
PvP is the part most praised about this game. In RF Online, PvP is not something you can't ignore or choose. It is inevitable and unavoidable. As they described on their official site, the survival of your race depends on PvP. Cutting down the exaggeration, at least your survival does depend on PvP. PvP involves guild fights, league fights, and national wars and planets wars. Ultimately a minor Pvp will lead way to an epic Race vs. Race war. PvP fight help in earning Contribution Points.
RF Online has a lot of in-game systems. One very interesting system is the political system of the game. A leader is chosen for each faction every week i.e. the player with most contribution points. The leader gets many interesting abilities such as speaking to all players and understanding other faction's languages. This encourages the players to do more quests and participate more in the PvP mode, as both can earn you good amount of Contribution Points.
When RF Online was released in 2006, the 3D graphics were jaw-dropping. Today, we have many games with far better graphics. Yet, for a free to play MMO, it is still among the best ones. The characters and art work is very interesting and original. However, character customization is quite disappointing. There is limited number of hairstyles and features to choose from and most of the beginners look like mirror reflections.
Sound, however, is an area where the makers of RF Online have really outdone themselves. Not only the sound effects are impressive, the music is very original, catchy and classic to say the least. So, if you really appreciate quality music, you will love playing this game with your speakers on.
RF Online definitely have some extremely admirable features and aspects, and haven't we talked about it much. To sum all the positive points here, let us recall it once again. The skill system is unique and innovative, mix of sci-fi and fantasy, impressive interface and graphics, excellent music and a large player base. Not to mention a friendly tutorial in the start.
Even after so much praises for the game we do have a couple of complains here. First of all, the major problem with the game is failure to balance equipment and weapons according to the level of the player. Even the most untrained newbie can kill a higher level player in one shot. Secondly, once again there is a problem with balancing the power according to the levels. There are a lot of higher level monsters in newbie areas, which can make the game impossibly difficult.
Overall, we liked this game. Most of all, we love the fact that we get to play it for free while many used to pay for it. RF Online doesn't feel like a clone. It has its own sci-fi element and it has a lot of systems which are still unique even after years of its release. So, if you are looking for something modern, futuristic and free, RF Online is top recommendation.