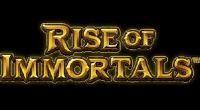 Ever since DotA has popularized the team based arena gameplay, millions of clones have arrived. The free MMO realm of MOBA style games is starting to pick up steam. Many were impressive and many failed to impress as much, but what we were really waiting for is a game that could now take the genre to the next level. In terms of free to play, if there is a game that we can credit for raising our spirits and hopes higher, it is the Rise of Immortals.
Rise of Immortals was developed and published by Petroglyph Games. Coming from the developers of Star wars: Empire at War and Panzer General, the game truly lives up to all its expectations by being highly competitive and persistent. Read on and find out what this DoTA challenger has really got to offer.
Backstory
It was a relief to know that ROI does not carry lore about two brothers or sisters or goddesses who are engaged in a battle of good and evil. In fact, it is about the land of Graxia and the crystals which serve as the lifeblood for the land. With time, the power of these crystals started to fade and as a result the life changed into death. A great earth quake killed millions of people and destroyed a whole continent.
In these times, elves researched and developed technology to amplify the power of crystals somehow. This technology was distributed all over the land. Later as all the races found out that the crystals would eventually die off, a war broke out in order to acquire more crystals and destroy the ones they can't acquire.
In these disturbing times, immortals from all the race were called upon to settle the dispute. It was decided that immortals will fight each other. The losing race will also be losing their crystals.
Immortals
Currently there are twelve immortals to choose from, all of them belonging to different races and displaying different skills and abilities. Let's find out about each one of them.
Tzai – This half demonic immortal is great at melee attacks. He has high offensive capability and slightly lower defense.
Tatiana – She belongs to a family of Oracles and that is what gives her magical attack and defense. It is a good choice for beginners.
Scorpix – Scorpix has great physical strength when it comes to defense but it lacks offensive powers. It is the basic tank class suitable for beginners.
Psychozen – although his body is paralyzed, Psychozen wears a complete body suit powered by the crystals. He has balanced offensive and defensive capabilities.
Nysuss – Destroyer of the world as they call her. She is an expert in ranged attack. She deals a good amount of damage when it comes to attack from a distance. .
Netheurgist – This mysterious immortal uses unique form of dark magic to disable his enemies and incur pain and dreams.
Lord Vezin – He is an arch enemy of the Netheurgist . like his rival he also uses magical attacks of great power and strength.
Lazarus – Lazarus also uses magical powers to attack his enemies and defend him self. This is also a tank class good for beginners.
Kyrie – Equipped with a lethal blade Blood storm, Kyrie seeks revenge upon Lazarus for destroying her family. She has a strong lethal attack but low defense.
Ichorr – It is the support class with high defense and medium offense. He is an elementalist, an immortal who solely fights for Graxia.
Balak – Balak the hunter ha an excellent long ranged attack, but very low defense.
Aislynn – she is the child of god of mountains and goddess of moon. She is the warrior with high offensive and defensive capabilities.
Gameplay
The game starts with character selection. Since, you will have to choose hero, there is hardly any customization except of skins available for a limited number of characters. Rise of immortals allows for multiple characters per account but not simultaneously. The game has only one single persistent world. The players start in this area called the social Hub.
Each player can equip four persistent items at given time. Every hero starts with his own set of weapons which are permanent. You can also purchase temporary items during a match.
The best part about the gameplay is the game's progression system. The characters don't only progress persistently, they also progress on the basis of their in match performances i.e. tactical level. The tactical progress resets after each match. It is earned by the number of players killed and towers destroyed. These points are used to unlock skills to use during matches.
Persistent level has hardly much to do with the in-game progress but it defines the level f the player and the level of the opponent you will be pitched against by the system. Persistent level grants discipline points which can be used to improve the talent tree.
PvE and PvP
ROI offers a good amount of entertainment for players who love both PvE and PvP in a single game. You can choose to play PvE solo or in team. The battles can get quite furious and long. You can also use your pet to assist you during the fight.
As for the PvP, it is instanced and more competitive than the PvE. Each battle involves two teams of two to five players each. These can be highly engaging battles lasting around half an hour. However, this is what truly defines the beauty of ROI and the genre.
You will find the usual minions, lanes and inhibitors in both PvE and PvP battles. Here we must really appreciate the game's system for maintaining a balance in the battles. There is hardly two of the same immortal in ne team. All the players and opponents in the team are usually on the same persistent level.
Graphics and Sounds
The 3D graphics of the games are really something that would tempt any player to at least try the game for once. All the characters are well designed and the skins will keep everyone from missing the lack of customization in the beginning. What is really great is the game's large persistent world and a special map designed for 3 vs. 3 battles.
Sound is also well done and balanced. The effects defiantly make it easier for the players to get immersed into the game during battles and combats.
Reasons to Play
+ The best thing about the game is its persistent character progression
+ The central hub is a much better place than the usual chat rooms in most battle arena games.
+ PvE is almost as competitive and enthralling as the PvP
+ PvP is well balanced
+ It is a free to play, never hurts to try
A Few Drawbacks
– The genre is very much dominated by DoTA and LoL and that is why RoI is experiencing a low user base.
– Gameplay often feels overlooked due to too many balance features
– Scrolling the map is a little difficult
The Final Word
Rise of immortals is a game with a lot of appreciable features but it really isn't a game you would call at revolutionary. Yes, it might definitely take the genre to its next level by focusing on how balance can be maintained throughout the game. So, if you are really looking for an opportunity to pick someone of your own size, RoI is the game for you.