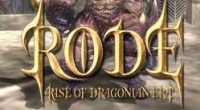 RODE or Rise of Dragonian Era is a free to play MMORPG from Netgame. This 3D fantasy MMORPG is attempting to give players a new game with new features, most notably the ability to fly around and take part in mounted combat, both PvE and PvP versions. The basics behind the games lore are simple and pretty much stick to the usual fair. There are two warring factions with eyes on the prize of world domination. You choose your side and prepare yourself for battle against your sworn enemy.
With such a similar back story and similar game mechanics, we will take a look at what may be different, and what may even be the same as many other games on the market, but is RODE doing it better, the same or worse? Keep reading as we highlight the games features and take a look and see what the answer to our questions may be, and if RODE is something you should add to your hard drive.
Getting Started
When you are getting started you have a very big choice to make. Are you going to choose the side of the Firean's and the Azurian's. You will want to make sure you have chosen wisely, as once you create your character, all future characters must be made on the same side. Thus limiting your racial choices. Though this limitation is not too big of an issue as both sides have three races to choose from and 4 classes, Warrior, Rogue, Cleric, and Mage. Once you reach level 10 you will be able to choose one of two specializations for your class of choice, but we are getting a bit ahead of ourselves.
Creating your character at first may see a bit on the side of simplistic, but the game has done a nice job of creating multiple screens that you will pass through and making choices on each to tweak everything from hair style to leg size. There are a few options that seem a bit limited, but then there are others that have a broad number of choices. While the over all customization may not be the deepest that exists in all MMORPGs, it is still very well done and gives players plenty of options to create a character that is unique.
Once you have created your character and you log in you will start to get more cinematic story telling. These only add to the depth of the games storyline and do a great job of pulling a player into the story. Even once you are finally in the game and you start to pick up your first quests, you will continue to get cut scenes that help make the RODE experience different and exciting. These short clips really make a player feel like their character is also part of the unfolding story as well, and not just a spectator.
Leveling Up and Skills
While the games progression is certainly not the slowest, it is far from the quickest either. For once though this is not a race to a level cap that is in the hundreds. Each time you level you will be able to add more skills to your skill set and these skills will increase in power as you level. Obviously these skills are all tailored to your class choice, and the skills that you can choose from only become more broad once you reach level 10 and you can choose your specialty. Do not be fooled though, the game has a but of a newbie curve in the beginning as you are not going to just be handed each and every skill that is available. You are going to have to earn enough coin to purchase these skills, and coins are a little more difficult to come by then you may think. So early on your going to have to make a few choices when it comes to which skills to purchase and which can wait till later when you have a few more coins to spare. No matter what class you choose, be ready to stock up on mana potions. We found that since skills allowed you to do the most damage, we were using them as often as possible, but every skill, even those for the Warrior class, consumed mana, and we were almost always running out the precious blue juice.
Dragons and Mounts
As you keep leveling up and gaining skills you will soon find that one of your quests rewards you with a egg. Now to get that egg to hatch you are going to have to raise its loyalty and make it happy so that it will want to join you as your highly loyal follower. To do so you will go into combat with your egg and slowly it will become very loyal, but this is not all. You will need to also obtain an item that is pretty rare. Once you have all the necessary prerequisites for hatching your egg, you will be able to hatch your dragon. Dragon's are able to be equipped with special items and fight in combat with you.
You will also early on get your first regular mount, the game expect that you will end up with quite a few mounts, so many so that it dedicated an entire area of your inventory to holding mounts. One of the very cool features of RODE is that your mounts will fight with you. Though you will have to make sure that they do not get too fatigued. There are simple vendor items that you can purchase and use on your pet to make sure they their fatigue stays to a minimum and they are in tip top shape not only to carry your from destination to destination, but also aid in your battles.
Crafting
From the very start of your adventures you will be passing many materials on the ground, and at any time you can stop and start picking up these materials that will aid in your chosen crafting profession. Each time you gather a material your gathering skill related to that material will get a bit better and eventually level up. As you level up you will be able to gather more precious materials. In turn you will eventually be able to craft more difficult items. The list of items that can be crafted is decently extensive and most of these items are very useful, so getting started with your gathering skills and crafting early on is highly recommended.
PVP
PvP mostly happens in the arena style battles that players can queue up for and are known as Region Wars. Players of certain level ranges will find themselves grouped together to fight players of the opposing faction of the same level range. Fighting in these battles will earn a player many rewards including fame and also experience. One of the very nice things about the PvP system is that a player can actually level up just from taking part in the Region War battles. Something not all MMORPGs allow for players to accomplish.
The Final Word
RODE certainly bring to fun features to the free to play MMORPG table. PvP players will enjoy the fact that they can battle it out with other players all day and all night and actually level up their character. PvE players will find that there is plenty of game to keep them occupied as well, between the thousands of quests, instance dungeons and many achievements to be earned. While RODE may not be a groundbreaking MMORPG, the game does many things well, and many other things as good as other free MMORPGs. The games storyline, and multitude of voice acting for all the NPCs is another area that is refreshing to see and experience. So if you are looking for a new world to explore, and would love to slay your foes from the back of a dragon, RODE is certainly worth adding to your hard drive.