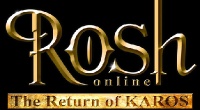 Rosh Online is the latest of several recent free to play MMO releases from Ignited Games. Fresh off the heels of Windslayer 2, and the company also has Dark Eden entering the beta testing phase shortly. Rosh Online The Return of Karos isn't exactly a new game per se, it is more an updated version of a past title. Just how much was updated and how well it was updated we will take a look at see. Essentially has Ignited Games created a title that is worth your time, or is it just a prettier version of an older game? Let's get started and we can take a look.
Getting Started
Right off the gate the first thing that stood out was the fact that there was only one server and one channel. Now this is a game that recently launched, has been seeing quite a bit of advertising around the web, and has a following from it's previous incarnation. One server and one channel doesn't mean anything when you are talking about population, as there are several new technologies on the market that are going to allow for far more simultaneous users on one server than ever before. But this is a standard benchmark for population, but once we get inside we can gauge a little better on the playerbase, so more on that shortly.
Once we have made our choice, or should I say our choice is made for us as far as a server and channel. We are on to the character creation screen. Here you will have the ability to create up to 4 total characters. Once you get into the character creation, you will have 7 different options for classes. Mystic, Bowmistress, Blader, Paladin, Rogue, Gunner and Sorceress. Each of these represents one of a few differnt styles of play, Tank, Healer, DPS, and Ranged DPS. It is not difficult to figure out which is which right from the get go, but you will have to make a selection and continue forward before you will see the description of the class.
The over all character customization portion of character creation is a bit disappointing. With very few options except for a few face options, a few hair style options and a few hair colors. That and your name and you are pretty much done. You may have noticed that there was no mention of choosing a gender. That is because the games characters are gender locked as well as race locked. While there is some variations here, you will still be fairly limited.
Let the Adventure Begin
Upon first logging in you will quickly notice that the game shows off the graphical overhaul right away. Not to say that the original Karos was so horrible, but Rosh Online really excels in this feature, and it makes your first steps in the game that much more enjoyable.
Once you are doing just looking around or gawking at your characters under boobs. You will be presented with a nice path and gameplay tutorial that not only walks you through the basics, but also gets you along your way and introduces to much of the games interface and basics. This is short and can pretty much be ignored, but it is well done in the fact that it is so short and sweet.
After getting your first quest and killing a few bad guys. You will notice that the game will walk you around for a bit with the quests that are given to you and their locations being easily found by following the giant arrow above your head or looking on the map and seeing a marker placed where the monsters you need to slay are located.
You will quickly find yourself in the first city of the game and be running to a few good to know NPCs who will continue you along your journey. The city will also present you with some nice visuals and also more players. When you first log in there is a very good chance that you will see players running around almost immediately. As you progress these numbers seem to grow. A welcome sight as the playerbase seems to be decent enough and growing daily.
Questing and Skills
Most of the quests you will find are of the standard fair. Kill x number of monsters, get y items from monsters, etc. They are though broken down into a few different categories: General, Repeat, Daily. While initially you will not see the daily quests, it is nice to know that some of repeatable, and that there are daily quest options.
As you level up you will receive skill points that you can assign to the different skills that your characters have. The skills are not abundant nor does it look like you are going to be inundated with skills that you will have to make wide arching choices as to which path to take with your skills. In the beginning pretty much DPS rules the day as you are trying to kill and kill fast to level up and get access to new areas.
A secondary skill system is in place called the Fletta attribute system. These are additional points that you will earn as you kill monsters and complete tasks. These are mainly there to boost stats and give your character a little extra boost here or there to Magic Attack or Physical Attack and other things such as this. Not a game changer, but something that adds just a little something different to a pretty generic free MMORPG.
A Few Bugs to Slay
There isn't a game on the planet that hasn't come out of the gates 100% bug free. Rosh Online is no exception. Some of the bugs are minor, some are a little bigger. None are major, at least none that we found. Some minor ones include some pathing issues and stuff like that. The ones that are a little bigger include quests that have one item reward and yet you still have to select your reward when completing the quests. "I am pretty sure I will take the ONE item you are offering for killing all those bugs."
Still none of these will severely hinder your experience in the world of Rosh Online, but it will be nice if they are fixed up pretty quick.
The Final Word
Is Rosh Online the game that is going to change the industry? No it is not. Is Rosh Online a solid offering of a fairly generic title that updates a previous title? Yes, it sure is, that and a little bit more. With the graphical update, and a solid gameplay experience, players of Karos will be happy to move over into the updated world of Rosh Online. New players who are looking for something simple, yet enjoyable will find what they are looking for here.