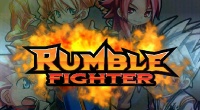 True gamers should not have any hesitation in admitting the fact that they grew up playing Barbie makeover games, and evolving in to more mature MMO fanatics, character customization is the part they love the most about free MMORPGs. Don't worry! Rumble Fighter is not a stereotyped makeover game, it is an action-packed fast paced combat MMO with a plethora of customization options.
The game is developed by a South Korean company, WeMade Entertainment. Of course, you must remember them from the titles such as 'Legend of Mir'. The game is published by OGPlanet, another well known name for games such as Lost Saga. Rumble fighter is a brightly colored casual fighting game which distinguishes itself from any other MMO in this genre. Players can choose from different fighting styles and can change their style during the fight. Read on for more exciting features.
Storyline
Before jumping on to the features and gameplay, let's talk about what started it. Ah! There's always a story behind a brawl. The story stretches back to a long long time ago when an evil Shadow King decided to conquer the world and make everyone his slave. The fighters from around the world united and fought against his evil power. Unfortunately, some got consumed by those powers and became the Dark Guardians. After a long battle, the good Guardian fighters defeated the Shadow King and captured his evil spirit in a Sacred Seal and placed it in the underground location called Resurrection.
Those who defeated the King were given special powers which they placed into ExoCores in order to be utilized by other fighters in case the evil returns in the future. Now the Sacred Seal must be protected as destroying it would unleash the evil again. Long story cut short, dark guardians are out on a hunt for that seal while the guardian fighters must recruit the best fighters to strengthen their force. This leads to the idea of an annual Rumble Fighter Tournament which you are going o compete in.
Gameplay
As for the real gameplay, Rumble fighter offer dull on fighting and combat. It is more like a battle royal and that's the best thing about it. Contrary to what we have said earlier, some players might be disappointed by no customization in the start. The players are directly thrown into a channel which usually separates them according to their skill level. So, basically there is almost no PvE element except in the Boss battle mode. Players can then choose from six classes and different fighting style.
Players can later customize their fighter using the in-game currency. You can buy almost everything ranging from clothes, accessories, scrolls and ExoCores. One interesting thing is that clothes and accessories can change the stats as well. Players can also change their fighting styles during the match, for that they have to use a Sacred Scroll. Players can choose special attacks using the ExoCores.
Some stages in the battle mode have portions or hazardous materials scattered throughout the map. In the end more than one winner are chosen under different categories including the best combo, best point, etc.
Classes
Although players can choose different styles during the game, they are given a choice of a class to begin with. Each class has its own specific style and specialty.
Striker – Strikers are the martial artists with strong and powerful melee attacks. Most beginners prefer this class because they are perfectly balanced between defense and offense.
Soul Fighters – Soul Fighters can summon souls to help them during battle. This gives them extra super natural strength and agility. However, they do not have a good defense and therefore not recommended for noobs unless you are an excellent attacker.
Elementalists – Elemntalist can also summon spirits of various kinds. More than physical power, they have mystical psychic powers which give them extra power. However, they are more prone to damge especially during melee battles.
Alchemist – As the name suggests, Alchemists have the skill of elemental transmutations. This makes them extremely good at defense but as well as offense. However, due to lack of agility, they are not good as hit and run fighters.
Shaman – This is a special class which must be bought using the game currency. It is a perfectly balanced class with strong offensive and defensive capabilities. They also have energy and agility.
Android – Android is another special class which can only be bought with a condition of player being at least 20.
Game Modes
Rumble Fighter offers almost all the typical battle modes of a typical beat em' up. You can play King of The Hill, Potion Battle, Arena Mode, Caged Beast Mode and a moving Screen mode. The last two might sound new which they apparently are. If you are wrestling fan, take Caged Beast as a blend of the usual cage match and the Elimination Chamber match. Moving Screen Mode is more like a death match in which you have to ascend to the top of the match. Now that sounds easy unless you are declared ring out after being knocked out of the screen.
Clone Zone
There is one serious problem in the game. Although each player has the opportunity to choose a different class and customize the character later, initially they all look the same. Since, it is a rumble battle with multiple players engaged at a time; it gets pretty difficult to identify your avatar and your opponent. So, unless you earn enough money to get a makeover, this can constantly create confusion during the first few battles.
Controls
The reason why we need to mention controls here is because they will keep evolving with time. It is a completely keyboard controlled game with initial keys being Z, X and C. Clearly, these three keys are for the only three skills you'd be having initially; block, punch and kick. However, great combos can be launched by chaining these together. Later, you can use two more keys to activate the super mode of your specific class. As it keeps getting complicated, we suggest using a gamepad instead of the keyboard.
Graphics and Sound
Both graphics and sound will remind you of early Nintendo fighting games which means they are not quite commendable. However, the cute character design gives a very pleasing aura overall. Bright side is that the game won't be requiring a system upgrade and will run on most of the systems.
Pros and Cons
Pros: Multi player battle and strong PvP element empowers the true MMO spirit.
Variety of fighting styles, maps and items is amazing.
The strong storyline gives a unique edge to the gameplay.
Cons : There are latencies and lagging issues that make player immune to attacks.
Community is not the friendliest one around.
The Final Word
If you are longing for hours of non-stop multi player fun, Rumble Fighter will give the right serving of engaging energy. Though it's a beat em' up fighting game, it is extremely unique in many ways. Since its an FTP, we can forgive a few visual and technical issues. Besides, it won't require you to keep coming back every day. Play it when you are not in the mode of continuing your RPG quest, you won't regret it!