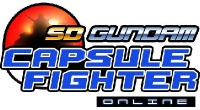 SD Gundam Capsule Fighter, a free to play third person shooter MMO from OGPlanet, is based off the Mobile Suit Gundam anime franchise that is wildly popular around the world. With more than 300 units to gather through the games capsule system, and all are customizable. Players will quickly find themselves dropped into a game world filled with missions and fast paced action that is certainly easy to pick up and run with for gamers who are not fans of the series, but fans of the genre.
Getting Started
SD Gundam Capsule Fighter is probably one of the faster starting games you will play. The game, once logged in, asks you for a player name and drops you directly into the games tutorial. While the tutorial is very informative, it can be a bit annoying if you are not really looking to run through a tutorial when you first start out. Yes there is no way to get out of the tutorial. So you will have several teachers giving you basic instructions on everything from moving your fighter to firing your weapons and understanding the power of your special attacks.
Gameplay
Once you have completed the tutorial the game drops you as the players into the capsule system where you will be awarded your first fighter of your own. This is random and you will be awarded one of a few different starting fighters. It is certainly nice to see that not all fighters are the same so all the newbie players are not running around with the same fighters.
The game keeps new players away from PvP until they reach a higher rank, so your first missions will be PVE only, either solo or with a group of 4. Each of these missions reward players with exp, and points that can be used to purchase other capsules and gain new fighters to put in your stable of fighters. The game boasts over 300 different fighters, so earning them all will be quite the task.
Over time you will find that there is a fighter that you will enjoy playing more than others, additionally there are different fighters that are well suited for different situations. So you will spend time with a few different ones and as you do so, you will be able to customize these units to your own liking.
In time you will earn the ability to jump into the PvP and Clan battles. This is where the real fun begins. While fighting computer opponents can be fun, there is nothing that replaces combat against other real players. Either way, combat in the game is fun and fluid for the most part, there are some minor aiming issues and melee combat can produce some stun lock situations that can be annoying. These are part of the game, and as a player it doesn't take long to learn how to deal with these situations with a minor adjustment to your gameplay.
Graphics, Sounds, and UI
Graphically speaking the games graphics suit and follow the anime look and feel well, there are a few minor graphic glitches that seem to pop up from time to time, but nothing that will ruin the gaming experience.
Sound wise, you can expect the basics, nothing more and nothing less. There are good sound effects during combat.
UI is sleek and simple. One of the things the game does extremely well, most of the time the UI will be completely out of the way and won't even be noticed, one sign of a very good UI.
The Final Word
SD Gundam Capsule Fighter is a fun game and can be enjoyed a wide range of players seeing that the game has very low system requirements. The large number of possibilities when it comes to the available fighters is amazing. Each fighter is also unique and the fact that a player can customize their fighter just adds to the fun. The game has a large variety of missions as well that will keep players engaged and enjoying the fast paced action that comes with the games unique style of gameplay. There are times when a player can wonder what they are suppose to be doing, but that is mostly because the game keeps things simple. Overall there is a fun game at the core of SD Gundam Capsule Fighter that gamers will enjoy, whether they are a fan of the series or not.