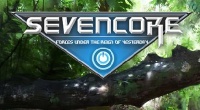 Sevencore, a free MMORPG from gPotato, mixes sci-fi and fantasy, and does so with a bit of flair! Players will find themselves thrust into a warring world where he, or she, who controls the most mounts wins. Well not exactly, but it sure does sound good.
Mounts are a core function of Sevencore. In this world not only do Mounts serve as a means to travel much more quickly from place to place, but they also serve the player as a loyal pet, when kept fed, or they can meld with a player to create something quite powerful. I am getting a bit ahead of myself though.
Character customization is always a good place to start, and Sevencore does an excellent job here. Players can choose from one of three classe, with no gender lock. From there a nice amount of customization is available and gives the players a nice opportunity to create a unique character.
Once in the game world, a player is dropped onto recruit island, once there, the questing and slaying will begin. This area is small, but is meant to teach the player the basics while providing them with a nice bit of starter equipment, and gear. Mostly gear suited to their class, and some Burgers and Cola! Yup, Burgers and Cola. Since the game, at this time, does not have a healer class, players will be on their own for a while to keep their health and mana up with the games auto-potion system. This is becoming a more and more popular function, and allows players to set items that will heal them or recharge their mana at a selected amount of health or mana. Once that threshold is reached a player will automatically ingest either a burger, for health, or cola, for mana.
Once off recruit island, the real fun begins. The first bit of business will be to get a flight tour of the main city. You will learn where to locate class trainers, crafting trainers, auction houses, and much more. You will then quickly head out into the country side on many more quests. Once your character finally reaches level 10, you will get your first mount, in the form of an egg. The first thing you will need to do is hatch your egg. Once you have hatched your egg you will summon your new mount. Don't think you will be able to jump on its back right away though. It is just a baby after all. So you will need to take it out and have it hunt by your side for a bit. Letting it grow and gain some levels first. Once it reaches level 10 it will be strong enough for your big butt to climb on for a ride.
Combat from the mounted position can be tricky, as your characters personal skills are not available when mounted, only the mounts skills. So early on, your mount will serve more as just a mount and less as a mounted combat vehicle. Though as it fights by your side you will find that it will gain more and more skills and become more useful. Mounts come in all shapes and sizes and serve different purposes. Some will ride faster, some will play the roll of tank or healer. In the end many mounts will take up space in your backpack and be called upon to serve differing purposes.
PvP and guild wars become a major portion of the game at the higher levels. With deathmatch and capture the flag style battlegrounds available for 20v20 combat. Small arenas are also available for players who are looking for smaller scale battles against their fellow players. From the guild standpoint, the game really takes shape later when the political system comes into play, with players being able to rule separate areas of the world and set taxes and other controls over the lands they have been voted to rule.
For those players looking for more group PvE action, there are plenty of instance dungeons to whet their appetite. With boss monsters who can reward a player wil everything from the finest weapons and armor to even a brand new egg for a player to raise into a powerful mount that is ready to carry the player across land, sea or through the air.
Overall, Sevencore has been a breath of fresh air in what has seemed to be a steady stream of mediocre games to hit the market lately. While it does have room for improvement, the games boasts a very solid base from which players can expect to see built upon. Many players have already expressed the desire for a healer class, but we shall see what the future brings for the game. A future that looks very bright for an already well put together free to play title.