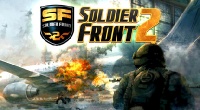 Soldier Front 2 is the follow up sequel the the wildly popular Soldier Front FPS title. This time Aeria Games is taking things to the next level with all new game modes that break the mold like Shatter and Hero. Shatter placing the player in a room where everything is breakable and the goal is to break the ground out from under your enemy and have him drop to his death. Hero being a mode that allows players to participate in a MOBA style of gameplay but on the field of battle, with aliens as creeps and only a few weapons to aid you in battle.
The other modes are more typical of any and all shooters that are on the market today. The game really begins to shine with the graphical overhaul that really shows how far games have come from the time that Soldier Front became a staple on many FPS fans hard drive. Players can also expect the game to take things to the next level when it comes to the eSports scene as the game is already slated to make waves there.
For those of you looking to see more of the action check out my first look gameplay video.
Don't forget to subscribe to our YouTube channel!