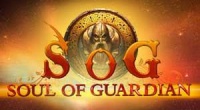 Soul of Guardian, the Free Browser Based MMORPG, is a 2D isometric fantasy game that is as fast paced as they come. When starting out players will choose from one of 4 different character classes and have the ability to shape their character through quests and battling the denizens of the game world. Sounds pretty generic right? Well I would be lying if I were to tell you that it isn't. Even though it is a pretty generic MMORPG. Players who are looking for something fast paced and browser based may find something they like in Soul of Guardian.
The key features of the game will give it mass appeal though. With instance dungeon crawls, PVP battlegrounds, an auction house, daily events and much more. So from a feature standpoint, the game is loaded. It seems as though the developers really took the time to look at features that players really enjoy and implemented them all into the game. This really gives the game a wide appeal.
So if you are looking for a new game world to explore and something that has very low system requirement. Soul of Guardian will give you a lot and the playerbase shows it. Now with all that said, expect the game to have your running through the first 30 levels at lightning pace. Barely giving you time to read anything or figure out what it going on with the quest you just completed or the item you just received.