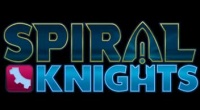 When ever we learn about a game coming from Sega, our minds travel back to the good old times of simple and harmless joys of arcade gaming, and then to the early days of PC gaming. Sega games never lost there charm, and the major reason was that each game was so different from the other. Now as the company has established itself as a publisher in the Free MMORPG realm, the same kind of unique fun still remains their trademark.
Spiral Knights is a new and intriguing free-to –play MMO from Sega. It was developed by Three Rings Design, the company which brought us titles such as 'Yohoho! Puzzle Pirate' and 'Bang! Howdy'. Spiral Knights flaunts cute and crisp visuals with a fast paced combat and a lot of role-playing.
Storyline
One thing that still hasn't changed about Sega games is that the storyline still doesn't have anything to do with the gameplay. However, we seriously think that it is not an acceptable excuse for a lame and incomprehensible storyline. Anyhow, it goes like this; the Spiral Knights (no idea where exactly they have come from) have awoken in an unknown world. Their spaceship, the Skylark, has crashed and their equipment stores have been raided.
They take refuge in a town called Haven. Underneath the surface of this world is a mechanical labyrinth called the Clockworks. The Clockworks is a mechanical complex of gears and mechanical devices, and that is why it keeps moving and changing. As the player progresses in the game, a lot of information about the origin and purpose of the Clockworks is gradually revealed.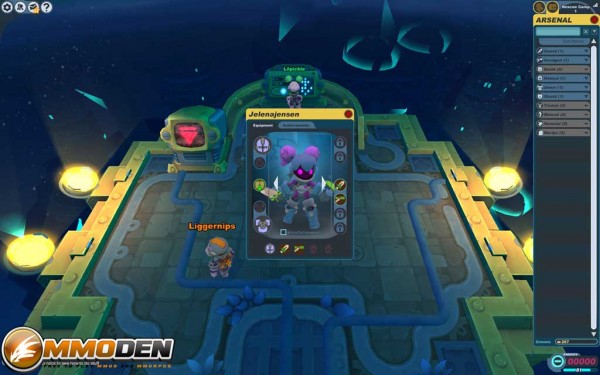 Gameplay
Once again, the developers have beautifully merged the classic MMORPG element into fresh and unique content. The gameplay might look very similar to The Legend of Zelda: Four swords adventure, yet it offers an experience which is unique and different. The player starts off in the character customization screen with limited options to choose from.
After customizing the character, you will have to take the tutorial. The tutorial is short and fun as the gameplay and controls are really very easy to grasp. As we mentioned earlier, the player starts in the town of Haven. Like any good RPG, you will meet a lot of NPC merchants. The real game begins as you step in the elevator and enter the Clockworks, which is also the home for several monsters and evil baddies.
You can fight the monsters in real-time combat gameplay, pick up the loot and make your way down to 'The Core'. Levelling up is really amazing in this game. Instead of your character, each piece of equipment you are holding levels up individually. This means, the more you use a specific weapon, the better you get at using it.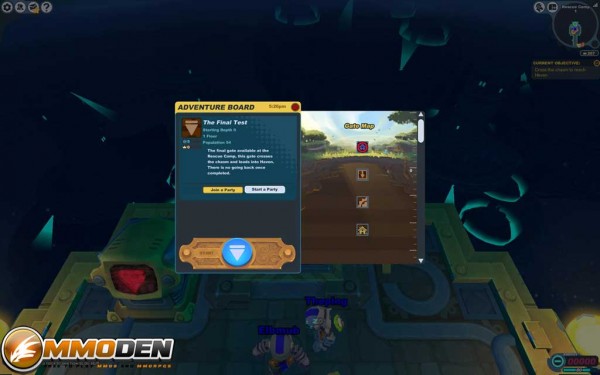 Gathering Up Your Buddies
Although PvP is not yet announced for the game, Spiral Knights requires a lot of cooperation among players. As you enter the Clockworks, the game will automatically partner you with two more players. Although there is a solo play option, playing in a team has its own excitement and advantages. Killing monsters, especially bosses, becomes an easier job. The best part is that each player gets an equal and complete amount of points and experience rather than sharing portions of it.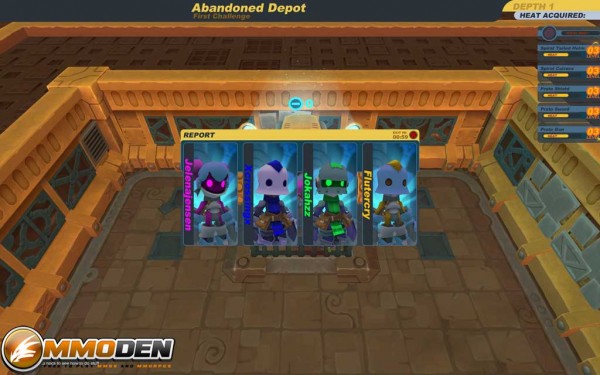 Dynamic Dungeon
It's not really a dungeon, and it isn't anything like what we have seen in the game world before. The most amazingly unique thing about the Clockworks is its dynamic nature. The world always keeps changing and the players play a very important part in shaping the world. This eliminates one of the major problems faced in most FTP RPGs, redundancy and repetitiveness. In turn, it increases the excitement level of the game and you just won't find yourself getting bored.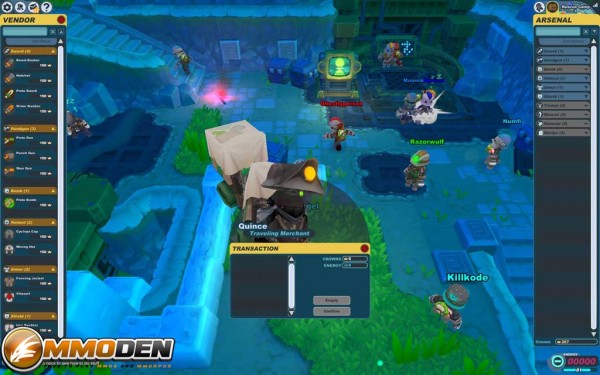 Crafting Your Wares
What the game lacks in initial customization, it makes up for through its crafting system. The Crafting system allows Spiral Knights to create weapons and other items using the materials they find during the fight. For crafting, you will also require the recipe for certain items you want to craft, plus some energy and game currency as well. You can get the recipes from the merchant NPCs or trade them with other players as well.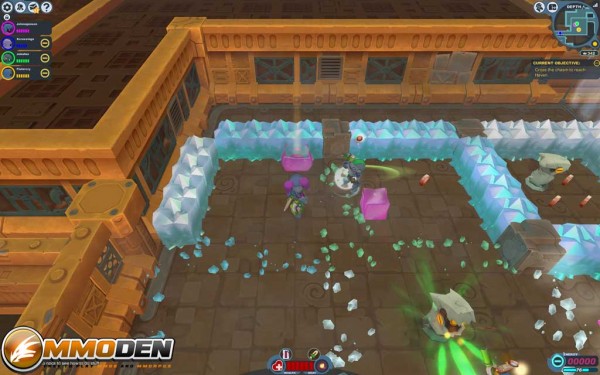 Graphics and Sounds
Three Rings definitely need a round of applause for bringing to us these amazing, colorful, bright and lively graphics in a free to play package. We can imagine how much effort it might have taken in making this dynamic world possible. Other than that, characters are all really cute and impressive as well. Despite its not so high resolution, the game definitely scores a ten on this one.
As for the sounds, they are equally complementary to the visuals. Although the music may not be the catchiest we have heard, but sound effects are great. We bet playing with sounds on will offer much more excitement.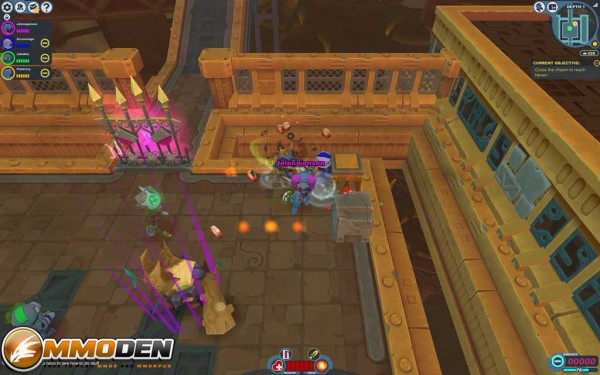 Pros and Cons
Like any game, especially any free to play, Spiral Knights has its fair share of pros as well as cons. So, let's sum it up.
Pros:
Excellent and exciting visual appeal with colorful background and cute characters.
Game emphasizes on cooperative gameplay by automatically pairing the players.
Offers a good variety of game modes and monsters.
Unique progression system based on equipment leveling
Unique and dynamic map
Cons:
Game does not have any PVP mode
Storyline doesn't help much in the gameplay
Progression is slow unless player buys equipment from the cash shop
Very little questing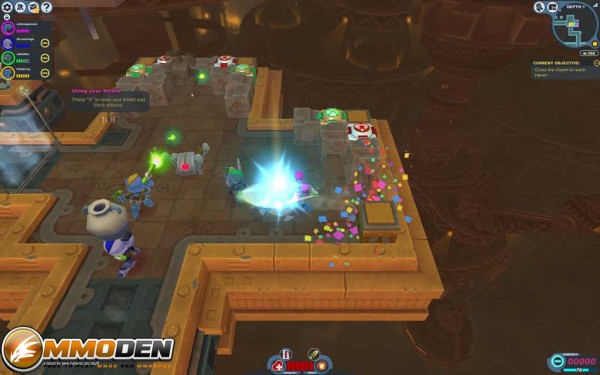 The Final Word
It's fun, it's exciting, it's unique and it's from Sega. Conclusively, Spiral Knights gives a true MMORPG fan every reason to log on and play this free browser game. The game has excellent gameplay and despite slow progression manages to keep the gamer captivated for hours. Its unique dynamic world saves the game from one of the major plagues of free to play MMO RPGs, repetitiveness. Although a few important things such as questing and PvP are missing, we can always look forward to the updates. In short, Spiral King is a top recommend.