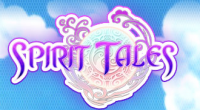 Spirit Tales, the latest free to play MMORPG from KoramGame in the fantasy genre. Spirit Tales gives players an opportunity to jump into a story of a world plagued by a people who wished to take over the world, one region at a time. Nothing new to the free MMORPG genre, but certainly wrapped in a stylish and adorable package. Spirit Tales looks to grab the attention of gamers who enjoy other cute anime inspired titles and are looking for a new world to explore. With several unique features and systems, it may just fill that void. Will the fact that the game also contains many copycat features that the developer also created for another game in the genre? Keep reading and find out.
Getting Started
As soon as you log in you will start out creating your first character from one of three unique races, the Gold Kirin, the Lunar Fox, or the Maned Dragon, each of these have two class selections and all classes are open to both male and female, but the two classes are specific to that race. Classes are broken down into a few different categories, which more MMORPG players will recognize, DPS, Tank, and Healing. Each of these have nicely detailed descriptions as well as a simple outline as to the play style of the class.
Once you have chosen which race and class selection suits your gameplay desires, you will be off to customize your character. Most anime inspired free MMORPGs have very limited options when it comes to character customization, not Spirit Tales. Spirit Tales has many slider bars and options that will insure that no character looks exactly like another once you are in the game, of course the usual random options is available as well, and can produce some interesting results that may or may not come from the normal tinkering of the slider bars on your own.
You will also notice a second character behind your main characters. This is your Spirit Power avatar, and will be what your character will transform into once you have completed the quest for your Spirit Power. This is a form that your character will take and increase your fighting ability thus allowing you to take down much more powerful monsters much more quickly. This quest becomes available at level 10 and should be completed as soon as possible as the Spirit Power comes in very handy for questing and taking out mini-boss mobs that you will run into during questing.
Gameplay
As soon as you are dropping into that game and the starting area of Autumal Grove you will find that you are immediately presented with a quest line that does an excellent job of moving your character around this starting area and progressively increasing the monsters that you will fight as you achieve your first several levels. Like most MMORPGs these days, the first bunch of quests are very linear, and not under you get a few levels under your belt will the game start to add a few quests to your quest log at a time. All of the quests types any player will recognize, and come in the standard variety.
One nice feature about the quests you will complete and something we touched on when talking about the Spirit Power. There are quite a few quests that not only unlock certain powers, but also new pets, crafting, weapon enhancing, and much more. Spirit Tales excels at creating a desire to quest over just mindlessly grinding as there are rewards at every turn for players willing to put in the time to complete quests regularly. Completing quests also allows your character to move up the levels much more quickly and any player who doesn't want that is out of their mind. With the auto-run feature making completion even that much more simple, so what we are saying is, "DO THE QUESTS!" LMAO
The games combat system is another excellent example of what can be done when trying to merge fast paced action oriented gameplay with the usual button mashing of MMORPG. Allowing a player to assign to skills to each of the button clicks makes combat simple and fast. Quickly in and out of combat in many cases before you ever mash a number key skill. Each of these skills have outstanding visuals as well, with each skill getting its own animation. Since the game has a very deep skill tree for each class, a player can expect to see a large number of different animations as they progress through the levels and discover new skills. Something that can always keep a player excited and wanting more!
Graphics, Sounds, and UI
As stated the games visual animations are very well done. These are only a small piece of the overall look and feel of the games graphics though, but they are a great representation of what a player can expect overall. Visually the game is stunning when it comes to the visuals, and yet keeps the system requirements to a lower level to allow a much larger playerbase. Monsters look amazing and have nice detail to them. The environments are done in a way that makes it easy for a player to feel as though they are truly in the landscape they are walking through.
Music and sound effects can always be there in any game to add just that little extra to the ambiance or create that final attack on the senses that will allow a player to feel full immersion. Spirit Tales uses its audio to exactly this purpose. Changing with the situation and creating a cute but deadly atmosphere.
The games User Interface is nothing ground breaking, but wisely copycats many other MMORPGs where it should, and breaks the mold in a few places where it can.
The Final Word
Is Spirit Tales going to revolutionize the free MMORPG Genre? Unfortunately it will not be doing this, but it does have enough unique features to make for a great game and fans of the anime MMORPG genre have a new title on their hands that I expect most will be adding to their hard drives. Some of the copy cat features may turn off some players, but for others that enjoy these features it may be just what they are longing for.