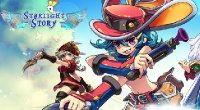 Starlight Story is a free browser based MMORPG game that certainly has some charm. The colorful graphics can lure a player in visually, but as gamers I think we may be getting a bit of "simplicity fatigue." What I mean by that is when a game allows you to go through the first few hours of game play by simply clicking on a link in your quest tracker, they have moved from being helpful to being a bit boring. With so many of these games hitting the market lately, it would be nice to see a change there.
Not to say that Starlight Story doesn't have some unique and redeeming features, as it certainly does. I just fear that these can get lost in the mundane action of just clicking the next link to appear in the quest tracking section of the UI.
With all that said I still think that there is some great qualities to the game and think that it could be a good fit for many gamers short on time and looking for a new browser world to explore. So check out the full gameplay video review below and see what the world of Starlight Story is all about.