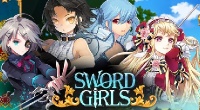 Sword Girls, a free browser based trading card MMORPG, gives players a little something extra, visually, than they are use to in the normal run of the mill trading card games that are available in the free to play market. ChangYou, enlisted some of the worlds best anime artists to create a massive library of trading cards that was meant to attract gamings core, young men. The title warns players by using the word "Girls," and that about sums it all up. There are no monster cards, or land cards, or even cards with buildings on them. All the cards in Sword Girls feature females in a variety of poses and outfits. Ranging from scantily clad to covered from neck to toe.
Now that you are prepared for the visual assault that you will receive, let's get on to the game and its gameplay. Sword Girls is a typical trading card game in the essence that you as the player will start off with a deck of cards. In that deck will be several card types. Each of these card types will serve a purpose when you enter battle. One of the nice things about the game is that players have many options when it comes to doing battle. A player can explore dungeons, fight against other players, or jump into the arena and challenge others in ranked matches. Either way combat is pretty much the same no matter which mode a player enters.
Strategy is a big portion of the game and learning how certain cards work and work for you is important. Setting up a deck being the primary strategic move a player will make. There are many options when setting up a deck, ranging from purchased cards to those that you construct in the games Lab, or those that you earn from your battles. Cards can be earned or created in a number of ways. Giving players many options that are not the norm for the genre. Enhancing and training your cards to be more powerful will also become a major strategic move for a player to make certain not to neglect.
As you can see there are many moving pieces that go into the Sword Girls universe and for gamers who enjoy this type of MMO they will find Sword Girls to be far more than just a pretty face.