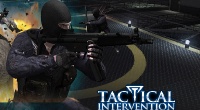 When it comes to shooting games it is hard to deny that even players who are not huge fans of the genre have heard of Counter Strike. So when one of the co-creators of the massively popular title breaks out and creates an all new title of his own, gamers everywhere perk up and pay attention.
Tactical Intervention is the Free Shooter that comes in the exact mold that I describe above. The game has had quite the rocky road to release, but it is now finally here. This tactical squad based shooter has quite a few elements that could make it really stand out in what has become a very convoluted crowd of shooter titles. With Mission Modes that let players take hostages or shoot out the side of a car while doing 90 on the highway.
So check out my full video gameplay review and see if you are ready to lock and load for TI.
Don't forget to subscribe to our YouTube channel!