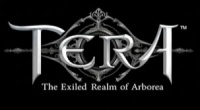 Tera, the action fantasy MMORPG from Enmasse Entertainment, has opened up its doors for free to play gamers with an all new 7 day trial. While the 7 day trial does allow players to level up to level 23, and allows gamers to enjoy up to 8 characters on one account, many players will still be left wanting due to some fairly harsh restrictions on trial players. We completely understand why games put these restrictions in place, but as a free gamer they can get annoying.
With all that said, let's move on to actually taking a look at what Tera has to offer. The game is gorgeous, and rightfully so, it is labeled as a AAA title and has a subscription model that supports the game. So we expect from titles such as this that the graphics be top notch, and they are. Everything from the environments to the character models shows a very high level of polish. While we are on the subject of senses, the sounds in the game are also very well done, for the most part. The music and sound effects are great, the voice acting, while good, could have been better.
Did we mention that this is an action title? This is one of the biggest differences from many other MMORPGs on the market today. All combat is action oriented and a player must pay attention to be involved in combat. So there is no simple button mashing or cycling that a player can master while a monster just stands in front of them. Players can expect enemies to dodge and move around making it more difficult for the player to strike down an opponent.
While the combat is not completely unique, it is nice to see this type of combat system in a major title. Along with combat, the games Vanarch voting system that allows players to rule over provinces and control that provinces tax rate and more. These unique features give Tera some legs and will probably attract quite a few players. Yet the majority of Tera seems to be like something we have seen before from other pay to play, and even more so now, free to play titles.
Tera is fun and the game is a wonder to look at while playing, but as a pay to play title, we just don't see the game surviving in that realm very long. For those of you who enjoy the free trial, expect to see Tera in the full free to play market in the next year. Competition in the MMORPG space has just become too fierce from F2P games.