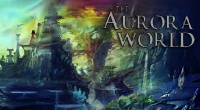 With so many new free games hitting the market these days, developers really need to do things to start setting themselves apart from the crowd. Now, The Aurora World has an amazing following world wide, but will that translate to a massive North American market? Well… the verdict is still out on this one. Logging into the game shows a glimpse of promise as there are plenty of players roaming around and chatting in the games channels. So only time will tell if The Aurora World can survive in this ever changing Free MMORPG realm, but they sure are making a run at it.
The game itself is pretty basic and players will understand the controls as they pretty much mimic those of many of the other games on the market. Where The Aurora World sets itself apart is in the Majinn system which is quite unique and the massive PvP that is available to players after level 30.
Majinn's come in many shapes and sizes and can be a players best friend and fiercest ally on the battlefield, let alone there to carry one across the game world with unrivaled speed.
The games PvP system is quite interesting as it is a mix of almost all PvP systems that a player could find in the genre. Then throw in some political voting systems and players will be battling it out for supremacy for quite some time.
The game has some decent depth as well, so I highly recommend you take a look at my full Video Gameplay review to see many of the other features that The Aurora World has to offer:
Don't forget to subscribe to our YouTube channel!