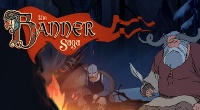 Turn based strategy titles have been around almost since the dawn of gaming, when I say the dawn of gaming, I mean the dawn of ALL gaming. Chess is a turn based strategy title, as is checkers and many other games that go back long before a computer was even a blip on any radar. Times have changed though, and we all beg for more as we progress and evolve.
The Banner Saga helps that progression. The games strategy is outstanding and should be applauded. Players will choose their army to take into battle, each unit with its own skills, attributes and special abilities. Once on the battlefield, it will take a bit of wit to overwhelm your foe. The match making system is excellent, and almost every match I played was determined by a right or wrong move here or there, not just one team being built to overpower the other.
The graphics are a bit of a throwback, and work extremely well. I felt like I was watching the old 1970's Hobbit film at times when a cutscene would show up. Overall the game has a ton of charm to go along with a very very good strategy system that should have players queuing up for games regularly.
Check out my full gameplay review below and see everything that The Banner Saga has to offer.