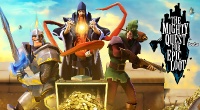 Video games so often bring players, like myself, a level of entertainment that we can not get anywhere else. So when a game adds in another layer that takes that entertainment to the next level, we are awed. The Might Quest for Epic Loot does just this, adding in a comedic aspect that will have gamers in stitches as they run through castles attempting to best their friends and the clock.
The game play is simple, yet played out on multiple levels. Raid dungeons and horde loot. That loot can then help you to bolster your own castle against players who wish to plunder your palace in an attempt to grow their own epic pile of riches. You will have hordes of monsters and traps to summon to guard your castle and the labyrinthine halls of your minds own creation.
Let's not forget that there is a PvE aspect as well to which you may take on the enemies and boss level monsters of such area as Little Spitaly.
If you would like a few more inside tips and trick watch my full first look video and get a few nuggets of info that could make all the difference.
Don't forget to subscribe to our YouTube channel!