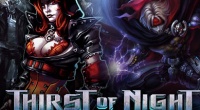 Thirst of Night, a free browser based MMORTS that takes players to a world where vampires have conquered human kind and now rule the a world filled with eternal darkness. Players will quickly take control of a city and begin building an empire that includes managing resources, researching new technologies, completing quests, fighting your fellow vampires in PVP action, and much much more.
The simple strategy portion of Thirst of Night has great potential to lure the browser based strategy buff that enjoys many other Free MMORTS titles that are on the market, and the allure of playing a game that is not the usual fantasy or history based genre is an added bonus for the game. From there the game keeps things simple and fairly generic. A player will need to manage resources, recruit troops, learn new research, upgrade their buildings and so on.
While the game is a fresh take on the RTS genre, there isn't much that a player can expect to find here that is going to blow their mind or say, "Wow! I haven't seen that before." With that said though, the strategy buff that enjoys these types of titles will find many hours of enjoyment in the Thirst of Night realm, and the playerbase is very large so there is always another Vampire out there to conquer or team up with in the game world. Also, for those players looking for a strategy game that will not take up hours of your time, Thirst of Night could be your game of choice.