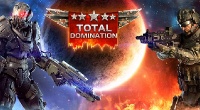 Total Domination is a free to play MMORTS that allows that player to take over a futuristic colony and build their empire through technology and conquest. This browser based MMORTS has a nice level of depth between the games combat units, buildings, technology research and much more.
For players who are looking for a browser based strategy game the breaks the typical fantasy mold and opts for a more sci-fi backdrop will find what they are looking for.
Check out my first look gameplay video for more details on how the game plays.
Don't forget to subscribe to our YouTube channel!