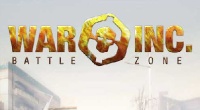 War Inc, a free to play shooter mmo, has reminded us of how we never get tired of talking about how premium going free makes us feel. It is actually quite satisfying to know that you won't have to spend a penny on what many would have spent a fortune on. Since the big decision was taken by many other of the industry giants, many have followed in their footsteps. It has become a norm for every popular premium title to switch to free-to-play model, and it doesn't make us as excited as it used to. Yet, when a game proclaimed itself as the first premium free-to-play, we were kind of confused, or shocked to be exact.
The game we are talking about is War, Inc. The game, a 3D third person shooter, is developed independently by LA based Online Warmongers and published by Arktos Entertainment. Nearly 5 million dollars were raised by the Arktos group to fund the development of AA shooter. This nearly explains the concept of a premium free-to-play, and if not then you have to play it first.
Backstory
Better known as War Inc. Battlezone, the game is based on modern battlefield action. The story does not take you back to the time before the time, nor does it teleport you to a future beyond time. It actually builds the plot depicting a troubling time resulting from the 2008 recession. Governments and nations are badly shaken and the world is ruled by corporate powers. Their mercenaries and paramilitary commandos are now the only solution in the chaotic world disintegrated due to the global economic instability. As a player you will have to join one of these powers to earn your living and bring back peace.
Classless Comrades
It sounds quite unbelievable for a AAA game to completely overlook one department. However, not having any classes indicates towards something unique War, Inc. is offering – Loadouts. Each player can have six different Loadouts for their character. Each loadout can have a different skills, ability weapons and modifications.
This may sound confusing to people who are used to the typical fantasy-based MMORPGs, but once you start playing, you will actually appreciate the change. Each Loadout can have unique job specialty such as engineer, sniper, or even a medic.
Gameplay
The game actually starts with a tutorial, or more like a guide. Different screens will show you the basics of the game and share a few tips and pointers. To be honest, the loadout feature makes the game look good from the very start. You can choose around six loadouts, customize each one with a set of armor and weapon etc, and we ensure you that'll be great fun. Just be carful with which one you choose as your first, second, third and so. You will also be able to choose your abilities and assign skill points, make sure you choose it wisely because these are going to stick with you permanently.
Overall, the gameplay is quite competitive and the features are premium to say the least. Starting off as a noob, you'll find your mercenary biting the dust quite often. Controls are easy to grasp, but you will need to master the skills. Learning each map also poses quite a challenge, and that is even if you're not much of a noob. Yet, we must praise it for somehow maintaining an awesome balance between noobs and veterans.
Abilities and Skills
Abilities are a pretty impressive feature in this FTP FTS. You can choose to have bonus armor for extra defense, or you can opt for a kind of third sense which will alarm you about mines and traps. The skills, although not very uncommon for a MMO, got a new twist for this game. This is probably because there is no class system. So, skills give you an ability to build a character without any limitation of class.
Armory
Generally, the player has to take care of two things; mercenary and armory. As far as mercenary is concerned, it is basically your character which you will build through skills and abilities. The armory, however, is the equipment you own. The game itself starts with a decent set of equipment for each loadout. Later, you can upgrade each loadout and even add additional loadouts. This way, you can change the set of weapons during the battle by switching between loadouts. However, this is strictly when you re-spawn.
Gameplay Modes, and Combat
There are currently four game modes in the game. At the time of its launch, there were only three. So, we can definitely expect a few more in the near future. All the modes are team matches namely; Conquest, Death match, Sabotage and Siege. At least eight players are requiring in each team. The fun part is that the game balancing system works in a very different manner. You might find your team outnumbered in a match, but somehow it manages to balance the teams on the basis of rank and weapons.
Conquest is your typical capture-the-flag styled match where you will have to capture and defend certain points in siege mode, one team is the protector of the points and other tries to capture them. The Death match is your usual death match combat mode where you and your teammates will fight for the highest kill total before time runs our. In sabotage, each team strives to accomplish their sabotage mission of planting a bomb while stopping the other team from doing so.
Graphics Sounds and Controls
We don't want to sound biased or anything, but honestly speaking the game does distinguish US made games from games coming from across the continents. This is majorly because of its graphics and detail. Graphics are just wonderful for a free to play shooter. However, this does results in lag, stutters and a few technical problems of this nature, for those individuals playing on older rigs. You won't really appreciate the way soldiers seem to be running around. It gets blurry at times. Also, the downside of all the details and eye candy graphics sum up to high system requirements. If you meet those requirements, prepare to be WOWED!
As far as sounds are concerned, we can say that it is a job done equally well as the graphics for War, Inc. Even with all the gunshots and bombings, the sounds are not loud or annoying. We would have really loved it if our soldiers were able to utter 'Army-men' kind of lines. Yet, you can hear them grunting and even that's not annoying.
The game is pretty responsive when it comes to controls. There is nothing that a typical FPS player would find new or difficult to grasp. The player moves pretty swiftly and the aim and shooting is accurate and under-control. However, the jump seems to be quite useless as the player drops back to the same point rather than leaping a few steps forward.
The Final Word
The high system requirements definitely put a lot of potential players in a misery, but the graphics and gameplay really deserve a worthy machine. War. Inc is a game we would really suggest buying a new system for. However, the game might be strictly for die hard shooting fans, so you won't miss the typical MMO features such as player interaction, crafting system and stuff. Yet, if you are someone who had once been addicted to CS or Battlefield, War. Inc can easily be the best thing that ever happened to you.