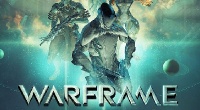 Normally when we add shooters to the list of reviews here at MMODen, we know we are getting into a fight against our fellow gamers around the globe. When I started doing my research and then playing Warframe, I quickly found out that this game is quite different. From the fact that players can earn currency to buy just about anything in the games shop, to the four player co-op, something quickly felt different, in a good way, about Warframe.
Warframe is a free shooter of the third person variety, and gives the player the chance to team up with 3 others to make a team of 4 as you progress through missions around the planets of the solar system. As you progress through the missions you will gain levels not only for yourself, but also for your gear. As your gear levels up it will have the chance to be modified and enhances. The customization is outstanding and really adds to the games allure.
Overall the game gives a lot and has set a solid foundation for what I expect to be played by the masses for a long time. Check out the full gameplay review below so you can see if you are ready to be sized up for your own personal Warframe!