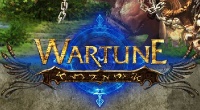 Wartune is a game that may just be giving players who enjoy RPG and strategy just what they are looking for. While the game lives and breathes in a 2D world, one can help but be pulled in. Players will roam the countryside completing quests just as if they are playing a Free MMORPG, but then at the same time, you will need to gather resources, manage your army, and build up your defenses to protect against those who wish to see harm upon your city, and plunder your gold.
The game starts out very quickly, as you will choose from one of three classes – The Mage, the Warrior, or the Archer. Each having their own special abilities, skill sets, and talent trees. I found the quick drop into the action refreshing and fun. So often games try to explain too much prior to getting a player fighting and into the mix of combat. I made quick work of the starter area, and soon found my way to retaking a city of which I was soon able to call my own.
As you level your character and your city new buildings become available, giving you the chance to enchant weapons, move your city around the PvE world, and even battle it out against other players in the PvP arena.
If you want to see more of what the game has to offer, check out my full gameplay review video below.