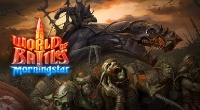 World of Battles, a free MMORTS from Frogwares, bares a striking resemblance to many other RTS fantasy titles that have hit the market over the years. Once a player dives in a bit deeper though, the games unique ability to allow a player to customize each of their units through gear, and then customize their armies through personal preference and strategic choices, really sets World of Battles apart from many of its predecessors.
While the game does boast many features that drawn influence from more traditional MMORPGs and less from its RTS counterparts, WoB can still leave a player wanting more. A built in system that limits the ability for a player to play the game unrestricted creates a quick feeling of being handcuffed. With so many options in the Free to Play gaming space, these restrictions certainly seem silly. We would love to see these restrictions lifted allowing a player more gameplay time before his units need rest.
With so many great ideas, World of Battles could be so much more. Between the unique units, hired giants, strategic challenge of playing against other real players. WoB has the potential to be a great game, but right now it is just a good game. Until the cash shop imbalance is corrected we will all sit and dream of what could be. Let's hope the future brings wisdom from the games developers and publishers.