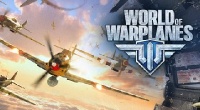 World of Warplanes is a flight simulation multi-player World War II era shooter that is Free to Play. The game is the second in a line of games from Wargaming.net that are set in the same era and aim to create a realm of total war that will span air, land and sea once War of Battleships joins the fray in the future.
Players will climb into the cockpit of iconic warbirds from the Germans, Americans, Russians, or Japanese. With more countries expected to join the arsenal in the future. As players compete in battles they will earn experience and credits that will slowly allow them to work their way through the games tech tree, upgrading their hanger of planes with new engines, weapons and more. Eventually allowing players to progress through the tech tree to higher tiers of planes to compete with players at the highest level of the game.
See more in my first look video and get a feel for the gameplay and more.
Don't forget to subscribe to our YouTube channel!